Young parents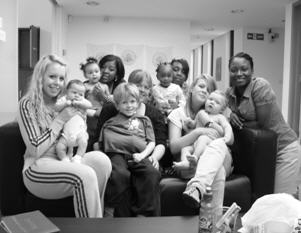 Our young parents team specialises in the care of parents aged 18 years and under who choose to have their baby at Whittington Health. The team provides support throughout pregnancy and for four weeks after your baby is born, depending on where you live.

Antenatal clinics are held at The Whittington Hospital, Islington's young people's hubs (Platform and Lift) and at home. Care is tailored to individual needs and includes one-to- one and group antenatal classes.

Our teenage pregnancy midwife, Constance Danlardy, works closely with social care, our family nurse partnership team and Islington's Targeted Youth Support Team to provide young parents with the support they need.

Young parents can be referred directly to Constance, including those who are undecided on whether to continue with the pregnancy.

Young parents can be screened for chlamydia and gonorrhoea and referred to an STI clinic for treatment and contact tracing if needed.


Clinics
We offer flexible appointment times at home, in clinic or at a venue of your choice. Partners, family members or friends can come with you to your appointments.

You will be allocated a named midwife who will make contact to arrange an appointment. Your midwife will be the main coordinator of the care you receive and will provide the majority of care throughout the antenatal and postnatal period.

You appointment should ideally be made before 12 weeks into your pregnancy. This first visit will take about an hour. We will ask you about your health and family history, and do some clinical investigations including blood tests. You and your midwife will come up with a care plan and any necessary referrals will be made on your behalf.

Parent education classes
We run group and one-to-one antenatal classes to provide young parents with support in the following areas:
Signs and stages of labour
Pain relief and relaxation
Feeding your baby
Making a birth plan
Getting to know our maternity services

Antenatal classes are held on the first Wednesday of each month.

The young parents team also runs postnatal groups after you have had your baby to provide you with additional support.
Referrals
You can refer yourself for antenatal care at Whittington Health by filling in a
self referral form
or by calling 020 7288 3482.
You can also be referred via your GP, family planning service, GUM clinic, Connexions and other community midwifery teams.
Young parents team
Constance Danlardy, teenage pregnancy midwife
Location
Antenatal Clinic, Level 5, Kenwood Wing, The Whittington Hospital, Magdala Avenue, London N19 5NF
Contact
Constance Danlardy
07785 326444
020 7288 3482 or 020 7288 3483

Maternity day unit
020 7288 3309

The Junction (Haringey-based young parents drop-in centre)
020 8489 5200

Pulse N7 (Islington-based one-stop-shop for young people)
020 7527 1300

Page last updated: 09 Dec 2014
Helping local people live longer healthier lives
Copyright ©2002-2022 Whittington Health NHS Trust
Registered Charity Number: 1056452