Role shadowing four - Interpreters - Abdul Warsame and Bobby Regis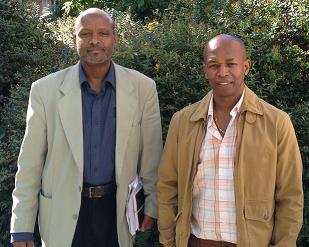 On 30 July 2012 the fourth Whittington Health role shadowing exercise took place, this time with a focus on interpreters. Community based interpreter Abdul Warsame was joined by hospital based interpreters administraor Bobby Regis. The principle behind this particular shadowing was to allow Bobby a greater understanding of the pressures that the interpreters are under while working, and also to allow Abdul the opportunity to see the way in which the service operates as a whole.

The session starts at 9am in the community, where Abdul has been booked to interpret for a young patient and his parents who speak little or no English. Before Abdul meets the family and patient, he explains to me that "we hope that this shadowing will facilitate a greater understanding of how the acute and community sites work."

As the consultation begins, Bobby watches on as the Doctor communicates with the parents through Abdul, who provides not only language but comfort and reassurance for the family during a traumatic time.

Vital questions, discussions and assessments are able to carried out comprehensively due to Abdul's involvement, giving the patient the best chance of a quick recovery, and providing the parents with a piece of mind that their child is receiving excellent care; for the clinical staff, an almost impossible task has been made relatively easy.

As Bobby observes Abdul at work, he remarks "This is giving me a practical idea of how the community interpreters work, which will help me understand what it is like for our interpreters when doing my job."

Abdul's contribution to the patient pathway does not end when the Doctor has finished the examination. He will assist the family to book a follow up appointment with reception, and also help them fill in a patient survey questionnaire, allowing us the opportunity to gain feedback from a source that would otherwise have been unable to contribute. Abdul says "By facilitating language, we not only enhance the patient experience, but we do our bit to make the patient pathway accessible."

Abdul explains "Interpreting is about more than converting one language to another, it is about understanding body language, cultural differences, and emotions. It is also about providing support for people when they need it the most."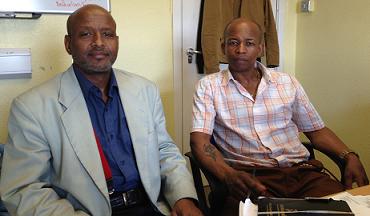 As the family departs from their appointment, Abdul explains the challenges in his role; "Sometimes, you have the ability to impart the best news a person could wish to hear, and of course, this is wonderful feeling. However, there are times when I have to translate terrible news such as someone who is terminally ill. Occasionally, they forget that I am a translator, and will blame me for their condition, but after some time, you get used to this, but it never becomes easy."

The session has allowed Bobby a great insight into the exterior issues that can effect an interpreters day to day work; "If a session takes longer than anticipated, Abdul is committed to translate, so there is a knock on effect for the next patient he is booked to help. These are all things that can cause issues each and every day."

Having spent 45 minutes in the community setting, Abdul comes to the Whittington Hospital for a discussion with Bobby to learn more about what happens behind the scenes to enable translators to go about their role.

Bobby explains requests for interpreters will come in two halves, one for acute settings and one for community sites. The requests will be accompanied with a huge amount of information regarding each patient to ensure that the correct interpreter is sent to assist them.

Bobby explains "One challenge we have is if there is a particular service user who has a very rare language, it can be very hard to find a translator, of course we try our best, but occasionally, the language or dialect is so sparsely used that we just cant find a translator."

Abdul observes how Bobby explains the system provides him with his bookings each day, and learns in more detail how jobs are processed and allocated, and subsequently paid for.

Bobby says "Today's session has been really helpful for both of us as we now know what we go through each day in our roles and understand what can happen to make our roles less straightforward."

If you would like further information about the role shadowing scheme, or are interested in taking part, pleae call communucations on 020 7288 3001.