Our Locality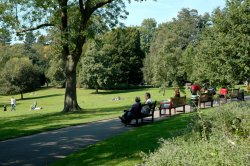 There are many places of interest in the area served by the Whittington Hospital.

Lauderdale House - a 16th century Tudor frame mansion, that was once home to Charles II's mistress Nell Gwynn. Exhibitions, concerts and poetry readings are held there each day. Set in Waterlow Park, it has a cafe and children's play area in beautiful parkland.
Kenwood House - this neo-classical listed building on Hampstead Heath, houses an art gallery and reastaurant and is open free to the public all year round. Kenwood also hosts events including exhibitions and lakeside concerts with fireworks.
Green spaces nearby - Waterlow Park is next to the hospital, Highgate Wood and Hampstead Heath are within easy reach. Up the road in Haringey, Alexandra Palace rises in a spacious park. It is a venue for concerts, exhibitions and many other large-scale events. The palace also houses a large ice skating rink.
There are many excellent restaurants locally, in Hampstead, Highgate, Islington, Crouch End and Haringey, ranging from cordon bleu to less expensive and ethnic eateries.
Two well-known theatrical landmarks in Islington are the Almeida Theatre and the Kings Head Theatre Club and pub. The Forum in nearby Kentish Town is one of the leading rock music venues in the capital.
There are seven leisure centres in Islington, of which Whittington staff are members.
Also in the borough is the Business Design Centre which regularly holds exhibitions and events which draw people from all over London.
Of special interest to football fans, of course, is the new Emirates Stadium of Arsenal Football Club, who are always extremely supportive of the hospital.