Infant feeding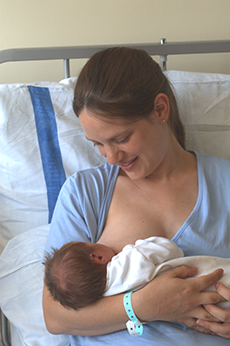 Breastfeeding is one of the most important things you can do to improve the lifelong health and emotional development of your child.

Exclusive breastfeeding (giving your baby breast milk only) is recommended for around the first six months of your baby's life. After that, giving your baby breast milk alongside other food will help them continue to grow and develop, as well as reducing their risk of illness.

We aim to provide encouragement, support and up-to-date information to enable you to breastfeed your baby confidently and successfully. If you choose to bottle feed your baby we aim to enable you to do so as safely as possible. Support is also available with introducing solid foods to your baby.
Health benefits for your baby
Breastfeeding is good for babies. Compared to formula fed babies, breastfed babies have:
Less chance of diarrhoea and vomiting and having to go to hospital as a result
Fewer chest and ear infections
Less chance of being constipated
Less likelihood of becoming overweight and obese and therefore developing type 2 diabetes and other illnesses later in life
Less chance of developing eczema and allergies
Less chance of a cot death (sudden infant death)
Less chance of having childhood leukaemia
Any amount of breastfeeding has a positive effect. The longer you breastfeed, the longer the protection lasts and the greater the benefits. Infant formula doesn't give your baby the same ingredients or provide the same protection. Breast milk adapts to meet your baby's changing needs.

Health benefits for you
Breastfeeding doesn't only benefit your baby, it benefits your health too. Breastfeeding is good for mums as it:
Lowers your risk of getting breast and ovarian cancer
Lowers your risk of developing diabetes
Can help to build a strong bond between you and your baby
Naturally uses up to 500 calories a day
Saves money – infant formula, the sterilising equipment and feeding equipment can be costly
Exclusive breastfeeding can also delay the return of your periods.

Breastfeeding support
Many mums find some support with breastfeeding helpful. This can be at any time, from pregnancy and getting started, to your child's final breastfeeds.

You can get breastfeeding support by:
Talking to your midwife or health visitor
Attending a breastfeeding workshop before you have your baby
Meeting another mum for one-to-one support through our breastfeeding peer support service
Attending a drop-in session
Phoning the national breastfeeding helpline on 0300 100 0212. This helpline is also available in Bengali on 0300 456 2421 and Hindi on 0300 330 5469.
Page last updated: 10 Aug 2015