Move4You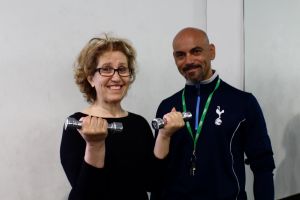 Tottenham Hotspur Foundation currently deliver Move4you physical activity programme in Barnet, Enfield and Haringey, the programme is support by Macmillan and the Big Lottery Fund. MOVE4YOU (formerly known as ACE) offers a 12-session guided physical activity programme, providing ongoing support for 12 months, led by our specialist activity instructors.
We currently deliver both 1-2-1 and group classes, two are held at the Education Centre at Whittington Hospital.

MOVE4YOU is tailored to each individual, supporting people of all abilities to engage with a variety of activities to help you move more during and after treatment.
Moving more and keeping active can have a very positive impact on your health and wellbeing. Research shows that there are many benefits of physical activity at all stages of the cancer care pathway.
Reduced tiredness and fatigue
Pain relief and improved flexibility
Improved mood and wellbeing
Improved bone health and a reduced risk of osteoporosis
A balanced healthy weight
Improved general fitness
Anyone aged 18+ with a cancer diagnosis in the last five years, who lives in or has access to healthcare in Barnet, Enfield, Haringey or Islington.

Once we have received a completed referral form, signed by a healthcare professional you will be invited to an initial assessment conducted by one of our instructor Emiliano Bianchi.
Page last updated: 24 Oct 2019