Maternity Voices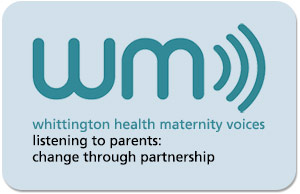 Help shape the Whittington maternity experience for families:
Whittington MVP, also known as Whittington Health Maternity Voices, is a friendly group of parents, parents to be and user representatives, midwives, doctors and commissioners led by co-chairs Anna Lawton and Mayani Muthuveloe.
Working together we review, improve and contribute to the development of Whittington Health's maternity services. We are interested in all aspects of a mother's maternity care – from the booking appointment with a midwife to the handover to the health visiting team at around day 10 after the baby's birth and everything in between.
As an independent body we are involved with local organisations and groups associated with the maternity services in Islington, Haringey and other local boroughs to support the implementation of the Better Births Initiative.
Get involved and have your say!
The Whittington MVP is open to everyone. We welcome contribution from parents to be, mums, dads, partners, health professionals and those who support mothers on their maternity journey. We want the MVP to represent everyone the Whittington Health maternity service cares for.
You can get involved and support the MVP in a number of ways. Please get in touch if you would like to be part of any of the following:
Share your feedback and ideas through our live survey
Share your lived experience at a quarterly workshop or at a Mothers' Voices session
Tell others about the MVP or share your birth story on our social media
Join our mailing list and keep up to date with what we're doing
Be part of a working group to discuss and develop a particular maternity initiative
Become a member of the MVP and share the views of others. You will need to be able to regularly attend MVP meetings and actively get involved with initiatives of the group
Follow us on social media by finding us on Instagram, Facebook and Twitter using the handle @WhittingtonMVP

Give Feedback
We want to hear from families who have given birth at the Whittington, or with the home birth team, in the last three years. Whether your feedback is good or constructive, your comments will help improve the support and services for pregnant people in Islington and Haringey.
Share your feedback through our live survey and/or attend our next Mothers' Voices sessions.
Please note that we aren't able to address specific issues regarding individual care that you have received. If you have any specific questions or concerns about your care, please contact your midwife and/or health visitor.
Upcoming Meetings
Our quarterly workshops are regular structured meetings set on a specific theme that help shape the Whittington Health maternity service decisions and make sure parents' voices are being heard.
Whether the workshops are in person or via Zoom, you can expect a welcoming space (with refreshments available if in person) and then a relaxed chat in small groups to talk about your experiences at the Whittington. Babes in arms are always welcome.

Our next workshops dates are below. Please keep an eye on our Instagram and Facebook pages for updates closer to the time, or email us on
maternityvoices.whitthealth@nhs.net
if you would like to attend:
Thursday 9 June
Thursday 8 September
Thursday 8 December

Mothers' Voices
These listening sessions are for local parents and parents-to-be. The sessions provide an opportunity for mothers (as well as fathers and anyone involved in supporting birthing people during pregnancy, birth and the first few days with a new baby) to have their say about Whittington Health's maternity care.

Tell us about your experience. How cared for did you feel in your pregnancy? What made a difference for you to have a positive birth experience? Would you have wished for anything to be done differently? What do you think will help make Whittington maternity services be more woman-centred?
There will be tea, cake and the listening ears of Whittington MVP user reps waiting for you. Babies and children are always welcome. We will share your feedback with the Whittington and local commissioners so that your voice is heard and you get to shape the local maternity services.
Our next Mothers' Voices take place on:
Thursday 12 May 2022 (time and location to be confirmed soon)
Thursday 10 November 2022 (time and location to be confirmed soon)

Ask the Midwife Webinars
These monthly Ask the Midwife Webinars are your chance to ask our maternity experts from the Whittington your questions. Maybe you would like to understand what happens in an induction, or learn about a homebirth or a caesarean birth. Each month we will focus on a topic and put your questions to team.
Our next webinar will take place on Friday 20 May from 2-2.45pm and will focus on inductions.
You can watch the previous webinars here shortly, check back for updates.

Meet our Co-Chairs
Co-chairs Anna Lawton and Mayani Muthuveloe are both mothers of Whittington babies. Before becoming chairs, they were involved in the MVP first by sharing their maternity experiences and then representing the parent voice at working groups and Whittington MVP project initiatives. As well as chairing the quarterly workshops they facilitate the delivery of projects identified to improve the maternity experience at the Whittington and ensure the mothers voice is present at maternity service meetings.
Get in touch with Anna and Mayani by emailing maternityvoices.whitthealth@nhs.net or find us on Facebook, Twitter or on Instagram using the handle @whittingtonmvp (Please be patient with any acknowledgement, as this is a flexible 3-day a month role and emails are checked every two days or so).

View our Annual Reports