Work in our Emergency Department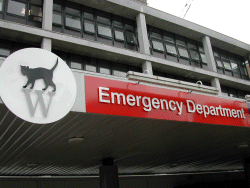 Join Whittington Health - the next stop for your Emergency Medicine Career
We have a number of flexible vacancies for FY3 and middle-grade level doctors to join our Emergency Department.
Choose us and you will join one of the friendliest London Trusts where you'll get to know your colleagues quickly and experience teamwork and supported learning. Whittington Health is ranked as 'Outstanding' for caring by the Care Quality Commission, so you will be among compassionate hospital staff and community teams who want you to succeed in helping them deliver something special to the people we serve.
We have strong foundations in compassionate leadership and you can expect to be treated with kindness, fairness and respect.
You will also be based in one of the most pleasant and connected parts of London. Our hospital is based in Archway, north London. It is a 5 minute walk to Archway tube station from where the northern line will take you to central London in less than 15 minutes. You are also only a short walk from leafy Highgate and easily connected to East London, Shoreditch and Stratford.
Read on to watch our video and find out about the flexible role options we offer and how to apply:
Your Career - Your Journey
Your Routes
We have a number of routes into roles in our Emergency Department. Whatever route you choose you can be sure that through your journey you will acquire increased confidence and skills in Emergency Medicine combined with time and support to develop other areas of interest.

All jobs are available at both FY3 and middle-grade level.

The Direct Route
Are you looking for further experience in an Emergency Medicine job in a busy and vibrant department? Gain great experience in adult and paediatric emergency medicine. Become part of the team, attend departmental teaching and have an educational supervisor.
These jobs are suitable for anyone who wishes to pursue a career in Emergency medicine , an acute specialty or general practice. Or who just wants to gain experience and confidence in Emergency Medicine.

Mind the Gap
Are you looking for a job which will allow you personal development as well as gaining clinical experience? Then come along and choose our ' Mind the Gap' option. This job is 70% Emergency Medicine BUT WITH 30% of time which you can dedicate to a project of your own choosing. Write a few words about your ideas on your application form and then have a chat with us about it at interview.

The Hopper
Are you looking for the flexibility of a locum job combined with the security and camaraderie of a fixed post. Then our 'Hopper' option is for you. We will offer you a 6mth contract but you can decide to complete those 6mths in blocks over a year. This is ideal for anyone wanting to take time to go travelling as it offers them a hassle-free and secure job to come back too. Or for anyone looking for a term-time contract.
Recharge the Batteries
Are you an innovative and creative thinker? Do you care about our culture and want to try and change it for the better? Do you have a sense of fun ? Then consider our Emergency Medicine and Wellness job. This job is 30% looking at ways to facilitate and improve staff wellness alongside
Dr Heidi Edmundson
, one of our EM consultants, with an interest is staff wellness and engagement. She has now run a wellness programme in the ED for the last 2 yrs particularly focussing on fun and creativity. This job also has plenty of opportunities to write a poster/paper for publication. Tell us in your application why this new area of medicine appeals to you.

The Engine Room
Do you want to help input into the future of the NHS ? Do you want to help implement lasting change and long term development? Are you a health and tech geek? Then our Emergency medicine and Digital Health job is for you. This is 70% EM and 30% working on projects with our IT department. Tell us in your application what interests you about digital health and why you think it is important for the future of the NHS.

The Scenic Route
Do you want to have a job which combines the fast pace of EM with sometime spent gaining expertise in another specialty. Then consider taking the scenic route. We can offer you a job which is 70% EM combined with education or simulation or palliative care. Similarly if you wish to spend time in another specialty tell us and we will try to arrange it for you. Just let us know on your application form.

The Freedom Pass
We want to help you to find a job with us which gives you what you need and what you can do.
Please let us know in your application form and at interview if you have any other ideas and we will see what we can do to accommodate you.

To apply
click here
and specify which route/s you would be interested in pursuing as part of your application.