About our Charity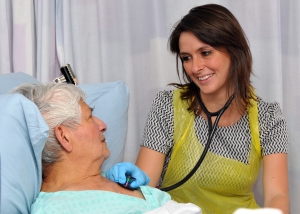 For over 150 years, Whittington Hospital has provided health and community care services to some 500,000 people mainly in Islington and Haringey as well as other London boroughs including Barnet, Enfield, Camden and Hackney.

As one organisation providing both hospital and community services, we are known as an 'integrated care organisation'. We have over 4,400 staff delivering care services across north London. We also run services from 30 community locations in Islington and Haringey.

Our vision is to provide safe, personal and co-ordinated care for the community we serve. To fulfil this, we aim to continuously improve the quality of our services to deliver the best outcomes for our local population.
The Whittington Hospital Charitable Fund supports and funds care that the NHS is not able to provide, in particular medical equipment and support for patients and staff. By spending money on additional equipment, better facilities and a more comfortable environment, we can offer patients the highest standards of care in the best possible surroundings.
We fund items, projects and groups which the NHS budget can't cover
Although the Whittington receives funding from the exchequer to provide healthcare for the local population, sadly there is often a shortfall. There are community projects and vital equipment which is desperately needed, but outside the limit of the NHS budgets. To keep pace with modern advances in technology and to provide improved services, there is very much a need to go that extra mile which is often met by fundraising donations. Our aim is to continue to provide services to a high standard, but to achieve our goals we need to raise valuable and much–needed funds.
CASE STUDY 1: Whittington's Noise at Night Project
In an effort to improve the experience of patients who spend the night, the charity purchased a range of items to reduce the effects of noise and light in our wards. As a result of charitable donations, patients who stay overnight will now be offered earplugs, eye masks and headphones to use with the hospital TVs. The charity also purchased noise monitors and desk lamps for every ward, to ensure all our patients receive the best possible night's sleep.
CASE STUDY 2: Care of Older People Appeal

Thanks to your support, over £150,000 was raised for the 'Care of Older People Appeal' to update and enhance the Day Hospital for our older patients. You have helped improve rehabilitation opportunities for elderly patients (upwards of 75 years old) and to upgrade the ward facilities. The unit cares for older people living with conditions such as; dementia including Alzheimer's disease; stroke; injury from falls; osteoporosis; diabetes; cardiovascular disease; bladder and bowel conditions.
With an increasing aged population, the three elderly care wards (Meyrick, Cavell and Cloudesley wards) that are based in the Victorian section of the building, have to cope with an increasing number of frail older people each year. Some 65% of patients on our elderly care wards have some level of dementia, from early onset to full-blown dementia so your support helped fund enhanced equipment such as easy to read clocks, adapted signage indicating room functions and lunch club facilities.