Our Children's Play Project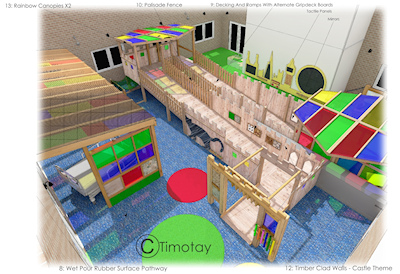 In a single year, over 2,000 children are cared for in the Whittington Hospital Ifor Childrenís Ward. This includes both emergency admissions and children receiving ongoing treatment for illnesses such as cancer and other limiting conditions.

One of the most popular areas of the ward is the Childrenís Play Terrace, which offers the unique opportunity for children to escape the often overwhelming hospital environment, whilst remaining in a protected, private, outdoor setting.

Whilst the existing Play Terrace at Whittington Hospital serves as an outdoor space for children it uses only half of the available space, is in need of refurbishment, and offers limited resources and accessibility to our patients.

The new Play Terrace is a specially designed therapeutic space, which will be more effective in helping children to manage symptoms and aid recovery. Play encourages a child with mobility issues to keep active to recover physically; while introducing the children to our pet rabbits helps to remove the fear and anxiety from their hospital experience.

However, we canít deliver this play terrace without voluntary support; therefore we are raising funds towards the cost of refurbishing the play terrace and installing the Bright Space.