Giving in memory of a loved one
In memory donations are a very special way to remember, celebrate and share the life of a loved one either at their funeral or around a commemorative date such as birthdays or anniversaries.
Family, friends and colleagues often wish to make a donation to charity instead of sending flowers to the funeral. In memory donations can be collected before, during or after the service through notifications on social and in traditional media, in the order of service and online using justgiving.com. We can assist with suggested text and also provide personalised service collection envelopes that can be placed on seats at the service.
Commemorative donations
An online tribute page will give you the opportunity to commemorate, celebrate or simply remember someone special by sharing memories, photographs and videos with family and friends wherever they are in the world.
To create your online tribute page please follow these simple steps:

1. Visit
https://www.justgiving.com/whittington
2. Select the 'Fundraise for us' orange button at the top right of the screen
3. Log in
4. Then select 'remembering someone/in memory' and create your page
5. Share your page by email and on social media
Using JustGiving is safe and easy to use, Gift Aid can be claimed automatically meaning you'll raise even more and remember to post the link to all your social media to commemorate your loved one.
Whichever way you give in memory of your loved one, you can be assured that you will help make a real difference to our hospital and healthcare community services once they have gone.
In loving memory of David Sewhcomar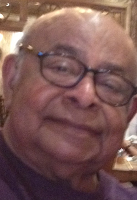 In loving memory of David Sewhcomar who passed away peacefully with his wife and family by his side on 18 August 2017. We would especially like to thank the fantastic doctors and amazing nurses on Coyle ward for their care and support for us all at such a difficult time – we will never forget their kindness and compassion.
In loving memory of Fred Calcott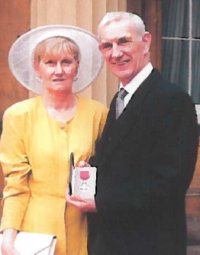 Fred's family asked for donations for the Whittington Hospital Chemotherapy Unit instead of flowers. More than £2,000 was raised and Fred's widow, Margaret, accompanied by her Son, made a poignant visit to the hospital to present the donations and thank the team for Fred's care.