Meet our nurses
Arul Bangalore
Associate Matron, Virtual Ward and Rapid Response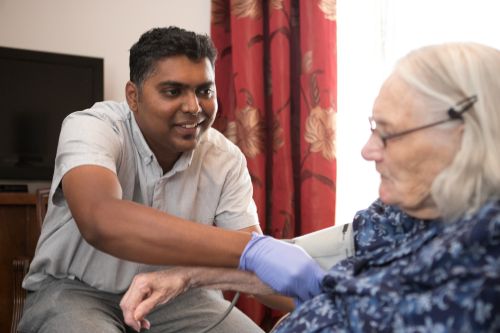 It is good to know I work for a healthcare trust that is reliable, professional and above all, proficient.
What's the best thing about working at Whittington Health?

The people I work with and the flexibility I've been given. I was anxious about a new workplace and culture when I came to the UK from southern India, but joining the Trust in May 2011 went so smoothly because of the unwavering support of colleagues.  When my wife and I started our family in 2012, my ward manager was kind enough to give me flexible hours so we could manage childcare.  Because my mind was at ease about my family life it helped me to be productive at work.  With a small team there is a lot of give and take and we consider everyone's needs.
How has your career progressed?
I joined as a Health Care Assistant and with the support and guidance of colleagues at different levels I was encouraged to undertake my nursing degree.  I am now a registered nurse and work on the Virtual Ward and as part of the Rapid Response team.  The Trust gave me access to training modules and supported my educational requests with enthusiasm.  I have gained confidence and competency in providing the best care to my patients.
What would you say to those thinking of joining?
I'd encourage all nursing professionals to join the Trust.  Really I would!  If like me you are coming from abroad, the Trust makes the transition so much easier.  I live 16 miles away, yet I choose to stay here because of the job satisfaction.  It is comforting to know I work for a Trust that is reliable, professional and, above all, proficient.  When I compare and contrast with friends in other Trusts, there is a lot that is better here.  Some of my friends have even joined me and the Whitt family.
What's your take on the community you work in?
This part of north London is very vibrant and diverse.  Although our work is fast-moving and we see so many people, I try to understand a little about my patients' lifestyles and cultures because that helps me understand their needs.