Meet our nurses
Rahbia Rujully
Practice Development Nurse in Theatres and Day Treatment Centre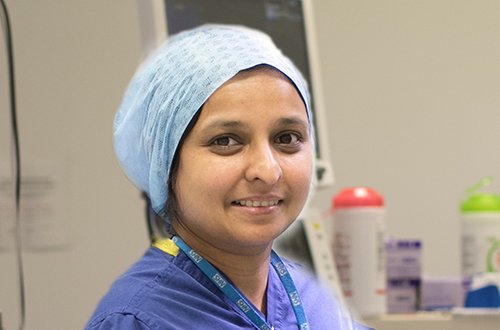 I enjoy working at the Whittington because we all work as a family towards the same goal, I have always worked in a healthy, happy, understanding and supportive environment.
What's the best thing about working at Whittington Health?

†
Iíve received valuable training and so much support and now I enjoy developing my teams. It is busy but I have a good work/life balance. I live close to a hospital in Walthamstow, but I am happier travelling to the Whittington to work. Iíd say to any newly registered nurse that this is a great place for your career and that senior staff are so supportive if you want to progress.

How did you progress to Practice Development Nurse for theatre?
†
I did my final placement as a qualified nurse on the orthopaedic ward Coyle and knew that I wanted to pursue being a theatre recovery nurse. I did a 6-month anaesthetic course at Kings College University Ė Whittington Health funded the course and I was the first trial person to do it. In 2008 I qualified as an anaesthetic nurse and in 2016 I completed the Practice Teacher module as part of my Practice Development Nurse training.

Who do you support now?

I look after 80 theatre staff, 20 day surgery staff and 8 pre-assessment staff. In my area, education, learning and competency management is vital and I take my responsibilities seriously. Every last two Thursdays of the month I invite reps to meet with my staff to go through usage of equipment and safe practices. If anyone canít attend those sessions I personally ensure I bring them up to date.
Do you enjoy your work as much as when you started?
†
I do. I was here at a student nurse in 2002 and have never left, so that says a lot! I look forward to coming to work everyday and choose to get here at 7am to check in with the night staff. My Matron has been very inspiring and Iíve always felt I can get professional advice, relevant authorisation and developmental help.