Meet our nurses
Dale Carrington
Lead District Nurse for Professional Development and Quality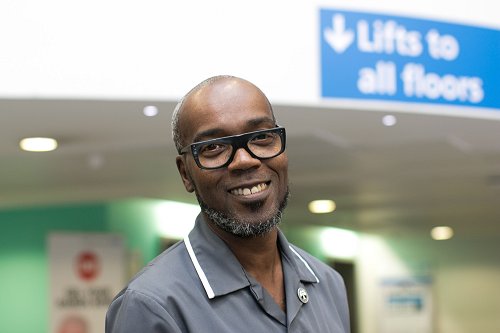 The hierarchy is less obvious here and people can comfortably approach each other.
What do you most like about Whittington Health?

If people are keen and have talent they are encouraged to progress with the help of good training. We are structured in our development programmes and our training and education is very good. Whittington Health is a forward-looking trust and, being smaller, I hope people feel like I have - really well-supported and able to raise concerns. The hierarchy is less obvious here and people can comfortably approach each other. I like that. It feels like working in a big family. I am a local person and it's great to be part of Whittington Health and to feel I'm giving something back to my community.
At what point do you get involved with new nurses and midwives?
We are the front door. On the first day they collect their badge and are introduced to their induction programme. They're issued with a timetable and assigned a buddy. We help individually by signing off competencies so that they and we feel confident that they can care for our patients well right from the start. The Competency Assessment Tool we use is like a passport that they take with them on their journey. It records progress and documents attainments.
Give a little insight into being a District Nurse
It's a very big leap from student nursing to working in the community so we are there to support all newcomers. You have to work at pace and deal with challenges as they arise. You are autonomous, so we work hard to make sure your skill bases are sound. You need to be able to prioritise, apply clinical decision-making and have a sixth sense about when to escalate a situation. Team managers are very supportive and we take great care to familiarise everybody with their teams and working environment.
Tell us how your career has progressed here
I left nursing in 1999 and let my registration lapse as I went into the IT department of a publishing company in the private sector. I returned to the profession in 2008/9 and began working for the school nurse team as a Band 3 on a special project. I came back at the bottom of the ladder literally and was talent-spotted and encouraged to do my return to practice and became a Band 5 within the district nursing team. I continued to study and went on to complete my district nursing specialist practice qualification (SPQ) and later my specialist practice teacher qualification (SPT). I now work three days in my role as Lead DN for professional development and quality plus 2 days as Chief Nursing and AHP Information Officer, where I help bring a clinical voice to digital innovation to help us work smarter across the ICO.