Meet our nurses
Jodie Huckle
Nursing Associate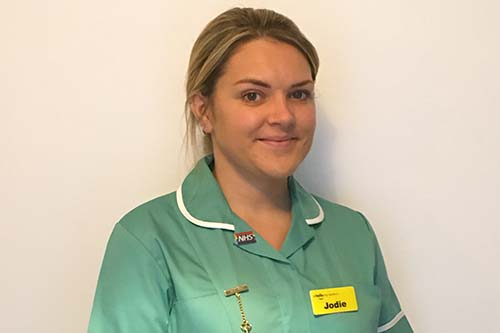 The Nursing Associate role ignited my drive to achieve more personally and for the profession. Now I want to keep going onwards and upwards."
"I left school at 16 and got into nursery nursing in education. I enjoyed the work, but wasn't sure where to go from there. My Mum told me to think about getting a job in the NHS. I got a lot of job alerts from hospitals about being a nursery nurse within trusts but it just wasn't the right moment for me.
"I decided instead to go travelling for a year and when I got back I began a job in a school in Enfield where I was helping to look after children with behavioural difficulties. It was interesting to understand that kind of care but I realised it wasn't for me.
"In 2014 I did get a job in the NHS as a nursery nurse on a postnatal ward. A bit of me was worried how I would get on because I knew nothing about clinical skills.
"Initially I was helping to look after babies in transitional care – these were babies who were high risk or who had experienced difficulties during birth. Many needed regular medicine and close monitoring for jaundice or sepsis.
"I carried on for three happy years. I loved the job and enjoyed working closely with midwives and doctors. I wasn't particularly thinking of next steps but there was a neonatal nurse, Lin, who came in every Thursday to monitor particular babies. On one visit she told me about the advert for trainee Nursing Associates. She explained a bit about the training and the role and told me I should go for it.
"Other colleagues had also been asking when was I going to start my nursing or midwifery training and I always dismissed their interest, but when Lin came in the next time waving some paper with Nursing Associate information I took a look. There wasn't much to go on but I realised with the way the course was set up I didn't have anything to lose. I would still be able to work and get a wage and the course was free. I thought to myself, if I didn't like it I could go back to my old job.
"I applied for the programme and waited to hear. There were only 5 places available to staff from Whittington Health to start the course at London Southbank University and when I heard I'd got one I felt very fortunate to be given the opportunity and really wanted to make it work.

"I began training in January 2017 with a cohort of people from a Children & Young People background – apparently the biggest cohort in the country. Once the studies started we were all in a state of shock. 100 people started and soon it went down to 90. We shared the feeling that we weren't academic people – many of us were 10 years on from our school days – and we wondered what we were doing there.
"The reason I got through the course was when there were challenges, I knew I could call my lecturer day or night. I always sing their praises – that level of support and investment in me seemed too good to be true. I never experienced that at school.
"Quite early on in the course my Southbank lecturers asked me to get checked out for dyslexia; nobody at school had ever suggested that. When the results came back that I was dyslexic they supported me in so many ways and enabled me to do so much better. My thoughts about education did a complete 360; their support helped me through the course and I also learned so much about myself.
"At Whittington Health my main support came from my postnatal ward manager, Chika. I went to her when I had waves of not coping with studies and working. The nurturing at the hospital and the sense of belonging is incredible. There is a family feel – it is somehow big and small at the same time. I've always been encouraged to push my boundaries by people at all levels. I even remember Kate who worked on the postnatal ward as our domestic encouraging me! So many people have had a massive impact on me and my journey. I've always felt supported and valued by both staff and patients.
"Overall the combination of studies and working was doable, but only if I organised my time properly. I had to set aside time to fit in everything. Certain aspects of my social life took a back seat but I was still sociable because I was resourceful.
"Early in the course I realised I wanted to focus on paediatric care and I've recently transferred to the children's Emergency department. It's a step up and I'm doing a lot more and learning more. Because of my background I have nurses asking me for advice on infant feeding and care – it's always great to feel useful!
"There is some confusion around the Nursing Associate role as it's fairly new. Many colleagues don't know what I can and can't do and I constantly need to assert the facts. I get a lot of positive feedback though and people are discovering where I can support them and fill gaps.
"The trust is doing very well in getting the message out there and there is a lot of belief in the role. Colleagues such as Claire Davies are doing a great job at this and I'm grateful for that.
"When I finished the course I didn't know what to do with myself so started thinking of next steps. I had read on Twitter about the Florence Nightingale leadership programme that a clinical nurse specialist colleague had recently done. I decided to apply for it as I thought it would help me get a better look at myself as a practitioner and how I impact on people around me. I got a place and I'm hoping it will give me more confidence, which you need in a new role.
"My advice to those thinking about the NA programme is to have belief in yourself. Don't feel you're not clever enough or academic enough. If you want it, you can make it happen. Going on the NA programme is the best thing I've done so far. I got my functional skills in maths and English while I was at LSBU and many others like me did it as they went along.
"My ambition is to eventually become a Registered Nurse. Now I realise how much time I previously spent just plodding along without focus. The Nursing Associate role ignited my drive to achieve more personally and for the profession. Now I want to keep going onwards and upwards."