Safe Staffing Levels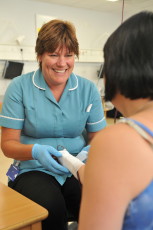 Safe Staffing Levels
At Whittington Health we are committed to ensuring our clinical environments are staffed with the appropriate number and skill-mix of nurses, student nurses, healthcare assistants, ward clerks and housekeepers to support the delivery of quality care whilst keeping patients safe from avoidable harm.
NHS England has produced guidance to support NHS Trusts in ensuring that the right people, with the right skills, are in the right place at the right time. Without safe staffing levels our staff would not be able to provide high quality patient care. Safe staffing levels are essential in helping us to provide the care our patients deserve.
Daily Assessments
Each day our matrons and senior nurses undertake regular assessments of how many staff are needed on each shift, to make sure the wards are staffed safely. The number of staff needed can be affected by the number of patients we care for and how unwell they are. Any concerns around safe staffing levels are discussed at capacity meetings where mitigation plans are put in place to manage the risks. Staffing levels is revisited throughout the day as required. The
Safe Staffing and Staffing Escalation Policy
standardises and guides this process.
Our nursing staff have daily access to information posted in each clinical area, detailing the planned and actual staffing levels for every shift.

Monthly Assessments
Each month we publish a summary of the planned and actual numbers of nursing staff who were on duty on each ward. This summary is referred as the Safe Staffing Levels report which compares how many registered and unregistered nurse hours should be provided during the day and night for the month, alongside the number of hours that were actually provided for the month. Our Safe Staffing Levels reports are available to view
here
and are also accessible on the
NHS Improvement website
.
Information about our staffing levels are also discussed in public at our monthly
Trust Board meetings
.

Nursing and Midwifery Establishment Reviews
Twice a year, we review the number of support workers, registered nurses and unregistered nurses on all of our wards. In order to conduct what is known as the establishment assessments, we use evidence based tools that are recommended by NHS Improvement and compare our staffing levels with hospitals of similar size and type. National guidance is taken into consideration throughout the process and recommendations for optimum and efficient staffing levels are presented at the Trust Board.
To help build the capacity of the nursing workforce a new role, the nursing associates, has been introduced aiming to bridge the gap between healthcare assistants and registered nurses.
The latest
Nursing and Midwifery Establishment report
shared with the Trust Board is available for public viewing.