Contact Us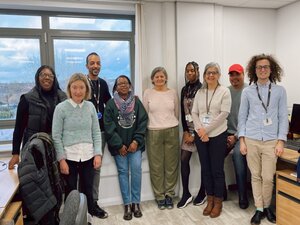 Being a parent can be hard!
Being a parent or carer is one of the most rewarding things you may ever do, but also the most challenging.

Your Health Visiting team may be best placed to support you during these times.
If you are feeling low, anxious, sleep deprived, struggling with the 'terrible twos' or need advice and support for any other reason, please contact your local Health Visitor.
Contacting your Health Visiting team:
Your local Health Visiting team can be contacted Monday to Friday (excluding Bank Holidays) from 9am to 5pm on the duty line. See contact details below.

When you call, please have your baby's NHS number ready (at the front of their red book or on any correspondence you have received from us).
The Health Visiting teams run weight clinics at a variety of venues – please get in touch if you would like to book an appointment. We also run a virtual
Starting Solids Workshop
, providing an overview of introducing your baby to solid food, which is also booked by contacting your local team.
Health Visiting Teams:
Hornsey Central Team
020 3074 2612
Stuart Crescent Team
020 3074 2907
Tynemouth Road Team
020 3224 4307
The Laurels Team
020 3224 4207
Which is my local Health Visiting team?
Please check the front page of your child's Personal Child Health Record (red book) to find out your local Health Visiting team and call them on the correct number above.

If you're still not sure which is your team or if you've just moved into the area, please call the 0-19 Team on the number below and they will redirect you.
The 0-19 Team will also get in contact with you to book your child's 1 year and 2 year reviews.
0-19 Single Point of Contact Team
020 3074 2650
151 Park Road
N8 8JD
Social Media
For the latest updates and information, you can follow us on our Instagram account @haringeyhv.
Your Views
Our service aims to offer the best support to families in Haringey and your views are important to help us adapt and improve. Please use the link below for your team to fill out a short survey on your contact. If you've had a great experience with one of our teams, let us know and if things haven't go so well, we want to know that too.