Blue is the colour for World Diabetes Day, 14 November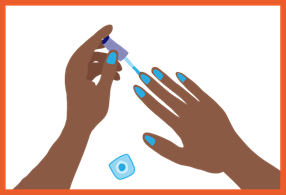 13 Nov 2023
Thousands of people across the country will be wearing blue or painting their nails blue to help raise awareness on World Diabetes Day
Full story
Thousands of people across the country will be wearing blue or painting their nails blue to help raise awareness on World Diabetes Day on 14 November.
Take on the #NailingDiabetes challenge and help us turn the UK blue this World Diabetes Day, so that others living with diabetes know they're not alone.
The date marks the birthday of Sir Frederick Banting – one of the founding fathers of insulin. Insulin is a treatment that has saved millions of lives around the world. Exactly 100 years ago, Frederick Banting and John Macleod won a Nobel peace prize for their discovery.
Since then, scientists have made incredible breakthroughs – from helping people with type 1 to use artificial intelligence to manage their blood glucose to putting type 2 diabetes into remission. And we're getting closer to a cure every day.
This year the theme for World Diabetes Day is access to diabetes care.
For people living with diabetes, awareness and access to the correct information and best available treatments and tools are vital to delay or prevent complications. More information can be found on the following links:
https://jdrf.org.uk/news-and-events/world-diabetes-day/
https://www.diabetes.org.uk/get_involved/world-diabetes-day
Further reading: Understanding your risk of type 2 diabetes