Whittington Hospital listens to local views about investing in services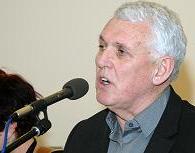 13 February 2013

Whittington Hospital pays tribute to packed public meeting kicking off its bid to listen to local views about investing in services

The board of Whittington Hospital has today paid tribute to a packed public meeting which kicked off its bid to listen to local views about investing in services.

Chairman, Joe Liddane, said: "We were deeply impressed at last night's public meeting by the passion and the love for the Whittington Hospital which we all share. This is just the start of a conversation that we want to have with everyone who wants to tell us what they think.

"We appreciate the opportunity and invitation to speak at this very important event and thank the organisers for their hard work. We also thank the MPs for their participation and willingness to engage with the board."

At the meeting last night [Tuesday 12 February], the Trust board explained their plans to invest £17 million in patient services, including a long-overdue upgrading of the maternity department.

The investment is possible only if funds are released from empty or surplus buildings that cannot be adapted for modern clinical needs. A small fraction of these buildings is presently used for patient care and one has been unused for 10 years. They represent less than a fifth of the total buildings that the Whittington occupies.

Joe Liddane said: "Last night we heard people express concerns about maternity services, the impact that releasing surplus buildings will have, and ensuring there is the right care in place for patients when and where they need it.

"The board will reflect on these and other points that were made. We are busy organising a programme of events and opportunities to explain why this is a positive development for patients who use our services and to listen carefully to their opinions."

The Whittington Hospital NHS Trust board are mostly local residents who rely on the Whittington Hospital to care for their families.

Board member and Trust joint medical director Dr Greg Battle, who is also a local GP, said: "I've been a GP and a resident locally for 20 years. I am passionate about the NHS and have dedicated my professional life to working in the NHS."

"I see about 100 patients a week and most of them say they don't want to go into hospital; if possible they want to be treated as near to home as possible and stay at home."

"I support these plans because it makes sense to give people better care from our community health centres and help them to remain at home where they want to be."

"Community-based health care must and will be supported by relevant hospital treatment where required. This is possible because the Whittington is an integrated care organisation made up of more than 30 health centres and the Whittington Hospital which acts seamlessly for the benefit of the patient."

The board's plans include commitments to:

• spend £10 million on improving the maternity department. This service has lacked investment for over 15 years and desperately needs an upgrade;
• invest £2.9 million in a same-day treatment centre, to support A&E and treat patients faster; and
• relocate the only affected patient services, physiotherapy and some occupational therapy, to new, better buildings.

Non executive director, Anita Charlesworth, local resident and mother of four children who were born under the care of the Whittington Hospital, reassured questioners at the meeting concerned about maternity services. She emphasised that the excellent maternity care provided by the Whittington would be maintained. Under the board's plans the Whittington will continue to deliver around 4,000 babies a year but in the modernised facilities.

Medical director Dr Martin Kuper, born and raised in Tufnell Park, said "We are proud to have the lowest mortality rate in the country for the past two years and to have reduced the time people have to stay in hospital after bowel cancer surgery. A new same day treatment centre will help more people to stay out of hospital. These advances will reduce the number of inpatient beds that we need, but we will check that they are working before beds are reduced".

Chairman, Joe Liddane, added: "We are asking the community to embrace our vision and overall plans for the future of the Whittington. They have the enthusiastic backing of local Clinical Commissioning Groups, made up of local GPs. As well as being the trusted advisor for patients, GPs are now in charge of funding and for telling Trusts like the Whittington what local people need from their services. We have to deliver the best possible improvements in healthcare within the boundaries of the resources that they are able to allocate to us."

To find out more or let Mr Liddane know your opinion, you can contact Whittington Health NHS Trust via email communications.whitthealth@nhs.net or telephone our communications team on 020 7288 3001.