'An Illustrated History of the Royal Northern Hospital, 1856 - 1992' by Dr Albert Rinsler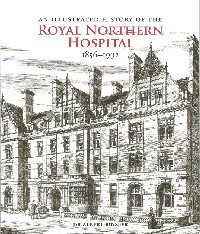 The Royal Northern Hospital stood on Holloway Road for 136 years before it sadly closed its doors in 1992. With its beautiful architecture and a flow of leading, forward thinking staff and supporters, the Royal Northern Hospital has provided over a century of medical and social services to the people of Islington and beyond.

In a wonderfully compiled book by Dr Albert Rinsler the history of the Royal Northern Hospital is told, from its birth in York Road in 1856, to its move in 1888 to the Grove House Estate in Holloway, as well as its many amalgamations with hospitals around the city.

Throughout, the book is laced with appealing details that characterise the hospital. Accompanied by an impressive array of photographs, maps, and illustrations, the reader is never left without a full picture of the history and the people who worked at the Royal Northern.

Dr Albert Rinsler qualified from Kings College hospital in 1947.After junior hospital posts in a research unit in S.Wales connected with the coal industry, he returned to London and entered General Practice, becoming a Principal in 1953. He practised in North London until he retired in 1992 and was honorary clinical photographer to the Royal Northern Hospital and the Whittington Hospital from 1954-1963.

Since retirement he has produced a number of exhibitions connected with the history of both hospitals. In 2005 he co-produced a short documentary film, Two Pioneers of Surgery, which is based on a 8mm film he took in 1943 when he was a pre-clinical medical student. Both the original 8mm film and the documentary DVD film are deposited in the British Film Institute -National Film and Television Archive.

An Illustrated History of the Royal Northern Hospital, can be purchased in the Press and Communications office at the Whittington Hospital for £5 or by sending a cheque for £6 which include post and packing, payable to the Whittington Hospital Charitable Funds.