Islington breast screening moves into the digital age at The Whittington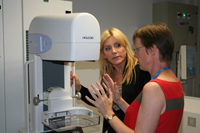 From today 29 June 2010, Islington women will be able to benefit from a new digital mammography unit that has been developed at The Whittington Hospital for breast screening. The investment in this new digital facility will improve early detection of breast cancer in a permanent home.

Women between the ages of 50 and 70, who are registered with their GP, are invited for breast screening every three years. Breast screening involves taking an image or mammogram of the breast to detect any early signs of breast cancer. Mammography can pick up cancers that are too small for a woman to see or feel in the breast. This early detection means treatment of the cancer will be more effective.

The benefits of this new unit include clearer images of the breasts for radiographers to check, better performing equipment, a fully accessible unit and a designated waiting area. NHS Islington hope that this new home for breast screening will give all Islington women, even those that have not yet attended, a comfortable experience at their next breast screening appointment and look forward to welcoming Islington women in the future. Islington women will start to be invited from the end of July 2010.

On 28 June 2010 Rachel Tyndall chief executive of North Central London NHS Sector officially opened the new unit at The Whittington with actress Michelle Collins who stressed the importance of breast screening and the benefits of this new unit.

Dr Ros Crooks lead breast radiologist at The Whittington commented; "We are delighted that we have been able to develop, with the help of NHS Islington, a static breast screening unit in The Whittington Hospital. The state of the art equipment will provide local, accessible facilities to our local screening population. We hope that the new facilities will encourage people to attend for regular screening allowing us to detect breast cancer early and enable the most effective treatment. We are proud to accommodate the unit alongside our symptomatic service."

For more information on the local breast screening service, The Central and East London Breast Screening Service, or to rearrange an appointment please visit Central & East London Breast Screening Service or call 020 7601 8305. For more information on breast cancer please visit NHS Choices Breast cancer pages.