TB News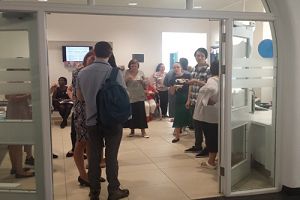 Latest news for the TB Service North Central London.
Comings and goings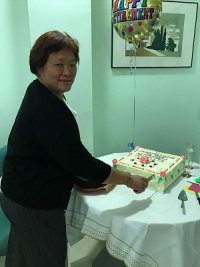 Angelita Solamalai (pictured) retired after 15 years as TB lead nurse at the RFH. We wish her all the best for the future.

Welcome to Josiane Dos Santos and Madeleine Wickers our new outreach worker and TB Case worker.
Staff successes
Huge congratulations to Lusha Kellgren (Lead Nurse, South Hub) who has qualified as a non-medical independent prescriber. Professor Rob Miller (South Hub/CNWL) was her Designated Medical Practitioner
Amanda McCormack (TB nurse specialist, South Hub) is one of only 70 nurses across London selected for the Florence Nightingale leadership programme. NHS England and NHS Improvement are funding the programme in recognition of the contribution of nurses/midwives across the 70 years of the NHS and to develop future leaders of healthcare in the capital. Go Amanda! https://florence-nightingale-foundation.org.uk/nhs-70-leadership-programme/
Trevor Hart (Outreach coordinator) successfully completed The Whittington Health I.CARE Leadership Programme. Pictured right receiving his certificate from Siobhan Harrington (Chief Executive, Whittington Health)
Congratulations to Steve Morris-Jones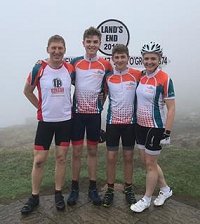 TB Alert, a UK based charity which works to tackle TB in the UK and the developing world was founded by Ken Citron and others. In the attached document he forwarded, he reflects on his life in relation to tuberculosis including having pulmonary TB himself which was cured with rest, relaxation, good food and sea air in Broadstairs!
TB and the NHS 70th birthday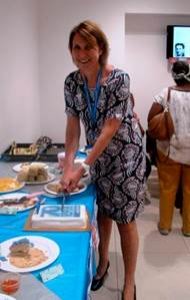 Jacqui White (Sector Lead Nurse) cuts the cake at the NHS TB Tea party at the South Hub which welcomed current and past TB colleagues, friends, family, patients and other health care professionals.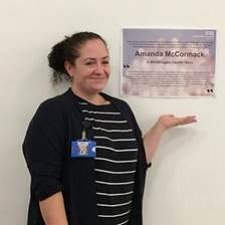 Amanda McCormack (TB nurse specialist, South Hub) was named as one of 70 Whittington Health Heroes. She received a special commemorative NHS 10p coin released by The Royal Mint.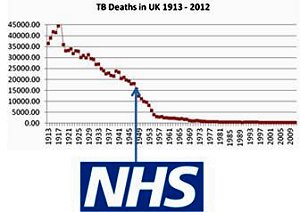 It was an opportunity to reflect on huge advances in TB outcomes in the last 70 years.
Recent death of Professor Denny Mitchison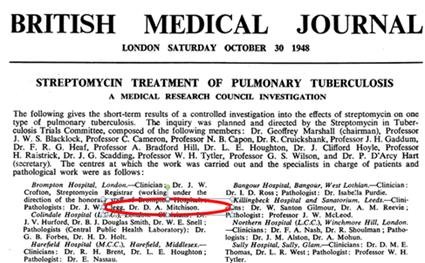 It is with great sadness that we heard of the recent death of Professor Denny Mitchison. He was involved in key advances in the last 70 years:
First ever randomised placebo control trial:
streptomycin with bed rest alone for the treatment of tuberculosis (right)
Domiciliary treatment of tuberculosis was as effective as treatment in hospital
Evidence base for the short course chemotherapy that we use today. Amina Jindani estimates that his work has saved 10 million lives during his 65 year career https://www.bmj.com/content/362/bmj.k3518.full
Continuing to spread our expertise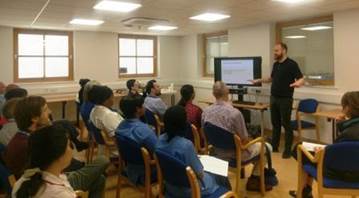 The North Middlesex team hosted a TB training session for health care professionals and 3rd sector workers. Thomas Rendal (TB nurse lead, N Mid) in action (left).

NCL TB sector has welcomed the first student nurses on rotation from Middlesex University. Well done to Peter McKenzie (TB nurse specialists N Mid) for organising
A thank you present from a patient who now remembers his care!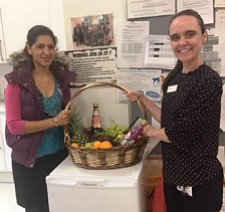 60 year old found collapsed in the street with complete memory loss. He did not know who he was or where he lived.
He had extensive pulmonary TB (left)
His profound memory loss was diagnosed as Korsakoff syndrome secondary to heavy alcohol use
After thiamine (vitamin B1) supplements, successfully completing TB treatment and a lot of detective work he made a great recovery, knows who he is and is in supported accommodation!
4% of patients with TB in London misuse alcohol
It is the highest social risk factor for TB to be diagnosed at the time of a hospital admission
Staff news
We wish all the best to Maria McEwan (TB nurse specialist S Hub) and Astrid Grindlaye (Outreach worker) in their new (not completely) unrelated) posts.

Welcome to Maddie Wickers (TB outreach Care worker), Zandile Maseko (research nurse), Damien Ming and James Milburn (ID/micro SPR Whittington/South Hub).
World TB day events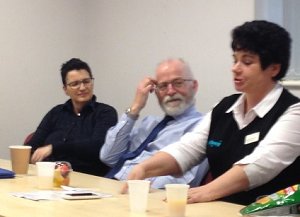 ' Nothing to fear'

Health care professionals and 3rd sector workers were invited to an excellent session organised by Trevor Hart (Outreach worker) with support from Astrid Grindlay (Outreach worker), Jacqui White (lead nurse) and Jennifer DeKoningh (lead admin).
Steve Hitchins, Whittington Health chairman, was a welcome audience member
Left to Right Sue Wilders (Social Care team leader), Trevor and Josie (ex patient).
Stephen Lawn Memorial Lecture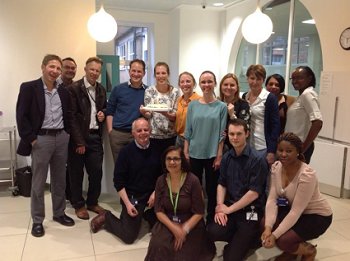 Steve worked at, and was supportive of the NCL TB service -South Hub.
He is best known for his work on HIV TB in South Africa. This was a moving meeting celebrating the recent findings of the STAMP study on rapid urine testing for disseminated TB in HIV positive patients which he set up
Steve, 3rd from left at South Hub 1st anniversary party
Focus on paediatric TB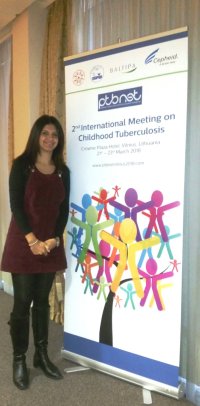 Meena Middleton (TB nurse specialist South Hub, committee member for the "British Association for Paediatric Tuberculosis") attended the 2nd International Meeting on childhood tuberculosis in Vilnius, Lithuania.

A highlight was a debate on bedaquiline /delamanid dispersible tablets (not currently licensed for <18 year olds) replacing injectable agents in childhood MDR-TB
Sector meeting
Developments and opportunities following the service restructure were outlined at December NCL TB network meeting.. The dedication and skills of the team was illustrated by North Middlesex having 43 years of specialist TB nursing experience between them!
TB doesn't stop for Christmas and value of spot sputums
Patient on anti-TNF alpha treatment for ankylosing spondylitis, attended A&E with persistent cough.

Referred that day to South Hub . Spot sputum smear +ve.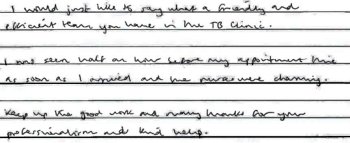 Whittington PALS passed on lovely patient feedback
Wellcome £1.6 million research grant
Congratulations to Mahdad Noursadeghi (UCL/South Hub) who has been awarded this research grant. He writes:

I aim to test whether our individual risk of tuberculosis disease may be due to differences in the way our immune systems respond to infection and that these differences are genetically inherited.
We will measure the activity of immune genes at the site of a skin test for TB as a model for how the immune system functions at the site of real disease. We will then link differences in immune responses between people with the infection with differences in their genetic code and the likelihood of their infection progressing to disease. These studies will reveal how and why some people develop the disease while others control the infection.
The findings will help us target preventive therapies to those who need them most and to develop better vaccines or new treatment for TB aimed at improving immunity.
TB nurse specialists' CPD!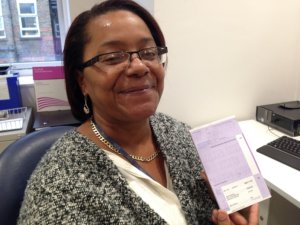 The National PHE BCG Vaccination Training Programme took place at the South Hub in September covering competency framework, maintaining the vaccine 'cold chain' and using the unlicensed Intervax BCG vaccine currently available:
Congratulations to Jacqui Barrett (TB nurse specialist, Edgware) who passed the nurse prescribing course at Whittington Hospital. Pictured with her FP10 prescription pad.
Lovely message from a patient at the South Hub
'To the wonderful team at the TB Clinic. Thank you for everything. If every cloud has a silver lining then you were definitely mine, Take care and till we meet again!'