South Hub at Whittington Hospital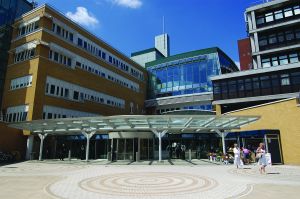 Location at The Whittington Hospital
TB Service North Central London
Level 3, Kenwood Wing,
Whittington Hospital,
Magdala Avenue,
London N19 5NF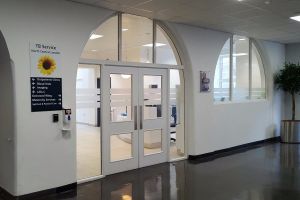 Contact details
Telephone: 020 7288 3366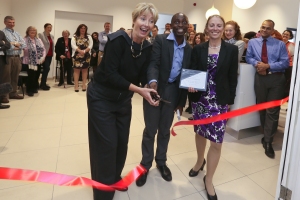 The South Hub was designed specifically to be a dedicated outpatient clinic for patients with TB or suspected TB. Award winning actress/writer Dame Emma Thompson and her son Tindy Agaba opened the clinic in 2014.
In a video filmed at the South Hub, Emma and Tindy share a very personal experience of TB.
TB physicians from University College London Hospitals, Whittington Hospital and Great Ormond Street Hospital (GOSH) support the South Hub.
We:
have in-clinic phlebotomy, ability to dispense free standard TB treatment and facilities for performing sputum induction (if required)
are a designated centre for the management of MDR-TB and XDR-TB
run a 4 weekly dedicated clinic and Multidisciplinary Radiology/Microbiology Team meeting for patients with Non-Tuberculous mycobacterial infection (NTM)
have a weekly dedicated clinic in HIV/TB dual infection
run fortnightly paediatric/family clinics supported by specialist paediatricians from UCLH, GOSH and Whittington Hospitals

Clinic opening hours South Hub
Outpatient centre
Monday to Friday: 9-5
TB Nurse Specialists are available for telephone or face to face advice Monday-Friday: 9-5
Walk-in clinics
(no appointment required)
Monday: 1pm – 3.30pm
Friday: 9am– 12:30pm
Adult clinics
(appointment only)
Wednesday: 2pm – 5pm
Thursday: 9am – 5pm
Paediatric/family clinics
(appointment only)
Tuesday: 2pm – 5pm fortnightly
Contact clinics
(appointment only)
Monday: 1pm – 4pm
Friday: 9am – 12.30pm