Safe Staffing Levels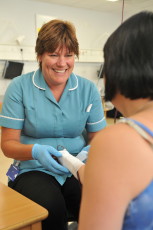 At Whittington Health we take the care of our patients very seriously. We make sure that each ward is staffed with the right number of nurses, student nurses, healthcare assistants, ward clerks and housekeepers to support good quality care and the needs of our patients.
Twice a year, we review the number of registered nurses and unregistered nurses on all of our wards. We also compare our staffing levels with similar size hospitals and national guidance and make recommendations to our Trust Board. Following the last review we have made significant investment in our nursing and midwifery workforce. You can read the summary of this year's review in the
nursing establishment review report
(May 2014).
Each day our matrons and senior nurses undertake regular assessments of how many staff are needed on each shift, to make sure the wards are staffed safely. The number of staff needed can be affected by how many patients we are caring for and how unwell these patients are. For example, patients with complex health needs will need more intensive nursing care.
Staffing posters on our wards
Each of our wards have a 'staffing status' poster at the entrance. Our senior nurses update the poster up to three times a day so patients and visitors can see the number of planned staff and how many staff we actually have working on that shift.
Questions about staffing levels?
For more information about staffing levels in our hospital please contact Philippa Davies, director of nursing and patient experience, on 020 7288 3589.