Patient Advice and Liaison Service (PALS)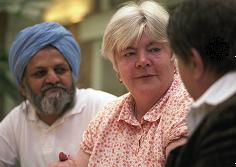 Main Address
PALS Office
The Whittington Hospital
Magdala Avenue
London

N19 5NF
020 7288 5551
The Patient Advice and Liaison Service (PALS) is for everyone who uses Whittington Health services. PALS provides advice, information and support to patients, families and their carers. It also provides a listening service for those who have problems and concerns and looks to find ways of resolving them. PALS is a focal point for feedback from patients which is then used to improve and develop Whittington Health services.

Please contact us:
If you have a question - ask us
When we do something right - compliment us
If you have a comment - tell us
When things do not go well - raise your concern or complaint with us
We will listen and learn from the feedback we receive.
Click
here
for
PALS leaflet
"making complaint, concerns, compliment & comments".
To tell us about your experience you can:
Speak directly to the people providing services to you. This is often the best way of resolving any problems or
Contact our PALS and Complaints Service - We will pass on compliments and comments, investigate concerns and sort out any problems as quickly as possible.
Looking for access to your medical records?
To gain access to your medical records or to request a copy, you just need to submit a subject access request.
Click here to find out more
.
Further Information
Please feel free to call, write or come and talk to us:

PALS & Complaints
Whittington Health NHS Trust
Magdala Avenue
London N19 5NF

Monday - Friday 09:30 – 16:30 (closed between 13:00-14:00)