Whittington Health remembers Highgate nurse Edith Cavell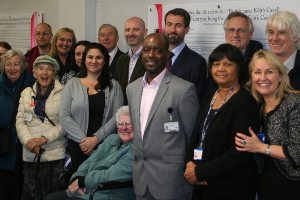 Whittington Health today remembers Edith Cavell, Highgate nurse and World War One (WWI) heroine, 100 years since her death.
Before the outbreak of war, Cavell worked as night superintendent at St Pancras Infirmary on Dartmouth Park Hill - later renamed Highgate Hospital - which became part of what is now Whittington Health when the NHS was founded in 1948.
The Trust aims to highlight Cavell's pioneering work through a new exhibition at the hospital, launched today, which includes her life story, photographs and examples of artwork she produced as a young woman.

The exhibition is part of a wider project, conceived by Trust chair Steve Hitchins and consultant gynaecologist Professor Albert Singer, to collate and share the history of Whittington Health.
Professor Singer said: "I am absolutely thrilled that Whittington Health has launched a project to celebrate and commemorate its history. Today we welcomed community members to The Whittington Hospital to view a new display which highlights the heroic yet tragic story of the life and death of nurse Edith Cavell."
Norfolk-born Cavell trained and worked in London before heading to German-occupied Belgium at the start of WWI, to assist wounded soldiers of all nationalities. She was arrested by German military authorities in the summer of 1915 for treason and executed a few weeks later, aged 49, by firing squad.
The centenary of her death has been marked across Europe with wreaths laid at the Edith Cavell Memorial in London and a ceremony at the Belgian senate.