Camden Speech and Language Service for Children and Young People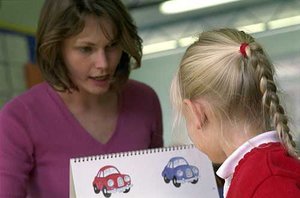 Speech and Language Therapy (SLT) for children in Camden, work with children with a range of difficulties around communication and eating.

We work with speech (e.g. speech sounds), language (words and sentences), communication (e.g. attention, listening and interaction skills), and those who have eating and drinking difficulties.
We also work with children who have sensory needs and use sign (British Sign Language) as well as children with physical needs who may need Assistive Technology.
Contact Details
Early Years: 020 3317 2366, based Hunter Street Health Centre
Mainstream Primary Schools: 020 3772 0390, based at Netley Campus
Special Schools: 020 7483 6065, based at Swiss Cottage School
Deaf Team: 020 7391 7054, Frank Barnes School for Deaf Children
Mainstream Secondary Schools: 020 3316 1080, based at Finsbury Health Centre
Our Staff
We are a large team consisting of

Qualified and HCPC registered Speech and Language Therapists
Assistants
Administrators
Our Offer
Support in identifying speech, language, communication and swallowing needs
Assessment of speech, language, communication and swallowing
Targeted intervention for those identified with needs
Specialist input for those with more complex needs
An additional 'Buy-in' service to local schools
Our Values
Mastering speech, language and communicate is fundamental to a child's learning, future happiness, social adjustment, emotional stability and self-esteem. It equips them to achieve and make positive contributions to society.

Working as a team with parents and other professionals ensures maximum effectiveness and best possible outcomes. This often involves us modelling activities and training individuals or staff groups.
Our Ways of Working
Therapy may be delivered in a number of different ways
Groups with other children working on the same or similar difficulties
Individual sessions
Personal programme written and modelled for support staff
Training of people working with a child
Class strategies and plans of approach to scaffold learning
Our Places of Work
Schools (mainstream and special schools – primary and secondary age)
Children's Centres and Nursery's attached to mainstream schools
Health Centres
Home Visits (when appropriate)
I am a parent
My child is in school or a nursery attached to a school – Speak to school staff or the school SENCo about your concerns. They are able to refer a child to our service.
My child is under 5 years old and not attending school yet – contact GP or make a referral yourself using the SPOR form (https://www.cnwl.nhs.uk/spor/)
Submit your Subject Access Request to view your health record
I am a SENCo (School)
I am interested in buying in extra Speech and Language provision - please call us on 020 3316 1080
Submit your referral here. https://www.cnwl.nhs.uk/spor/
I am a Health Professional (GP or HV)
Head of Camden SLT Service for Children and Young People and Camden CCG
Kate Bayley
Designated Clinical Officer
Main Address
We are based in several locations across Camden borough linked to the age of the children/young people we are working with.
Hours
Monday to Friday 9am to 5pm