Whittington Health chief executive appointed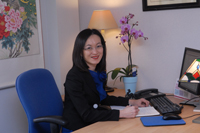 Dr Yi Mien Koh has been appointed the first chief executive of Whittington Health. She will be joining the organisation on Monday 28 March 2011 as The Whittington Hospital becomes an integrated care organisation merging with community health services from Islington and Haringey on Friday 1 April.

Yi Mien, a consultant in public health, was until recently chief executive of Hillingdon PCT. Previously she held director level posts as programme director for clinical benchmarking, medical director and director of public health. She holds an MBA from the City University Business School and is a fellow of the Faculty of Public Health as well as the Chartered Institute of Personnel and Development.

Chairman of Whittington Health Joe Liddane said: "I am delighted that Yi Mien Koh has been appointed as Whittington Health's first chief executive, she has a very impressive background in public health as a clinician and a manager. We are eager to work with Yi Mien to make Whittington Health a long-term success as we look to improve healthcare provision to the local population. On the same note I would like to thank Rob Larkman for his work in steering The Whittington Hospital to this juncture. His excellent management of The Whittington has been valuable throughout the period of change".

Dr Yi Mien Koh says she is looking forward to being part of the new Whittington Health organisation.

"I am delighted to be appointed the first chief executive of Whittington Health and look forward to working together with everyone to deliver an integrated care model to our local community that is the best in the world".

Rob Larkman, who has been chief executive of The Whittington Hospital NHS Trust on secondment for the past 18 months, will be moving to another senior role within the NHS in London.

The Whittington Hospital's director of primary care, Siobhan Harrington will be acting chief executive until Yi Mien formally takes up her post.