Urgent Care Centre opens at the Whittington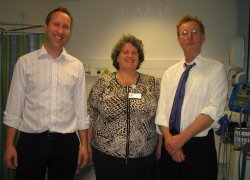 An urgent care centre based at The Whittington Hospital opened on Thursday 31 March 2011. The service will be open daily, 8 am to 10 pm and will be made up of local GPs and nurses who will provide urgent care for people living in Islington and West Haringey, or those visiting the area. This will work as part of a fully functioning, 24 hour, seven day a week, emergency department.

The urgent care centre is part of the integrated care organisation and will provide excellent opportunities to improve and extend services to local people and will deal with cuts and bruises, simple fractures and other minor injuries plus support for patient with long term conditions who feel unwell and need to see a doctors.

Dr Stephen Rogers from Hornsey Rise and Dr Will Zermansky of Highgate Group Practice are pictured with Whittington Health medical director Celia Ingham Clark on the first day.
Page last updated: 05 Apr 2011