Whittington Health chosen to deliver fast-track digital innovation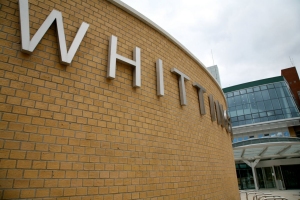 13 Sep 2017
Whittington Health join the Global Digital Exemplar programme
Full story
Whittington Health has been selected to be part of the £100m second wave of NHS digital pioneers, to deliver digital innovation across the health service.

The news, announced by Health Secretary Jeremy Hunt today, gives Whittington Health a substantial £5m injection of central funding to be matched locally. This will transform the pace at which Whittington Health can deliver the advanced IT required to underpin improvements to services and the quality of care.

Whittington Health is working with System C and alongside University Hospitals Bristol NHS Foundation Trust to deliver the fast-track digital innovation programme, as part of the Global Digital Exemplar (GDE) programme. The GDE initiative is focused on the NHS's most digitally advanced trusts and is designed as a springboard to accelerate clinical systems development.

As part of the programme Whittington Health and University Hospitals Bristol NHS Foundation Trust will be deploying an advanced digital blueprint and working through a benefits realisation programme which can then be rolled out at scale across the NHS to other System C sites.

Sam Barclay, Chief Clinical Information Officer at Whittington Health, said: "This is an important step forward for improving digital innovation at Whittington Health.

"Adoption of the blueprint will transform our IT over the coming years, both in terms of the clinicians' digital working and our electronic engagement with patients. The programme also facilitates a significant move to mobile working throughout Whittington Health, which will have an enormous impact on how we use technology to support service improvement across the Trust."

Using a blueprint toolkit supplied by System C, Whittington Health will develop new models of care applications transform the way services are provided, using patient portals and wearable devices to connect patients with clinicians and to help Trusts manage patients remotely.

"We are delighted to have Whittington Health join the Global Digital Exemplar programme. They are a far-sighted and energetic trust which will be able to deploy advanced clinical functionality at pace," said Markus Bolton, joint chief executive of System C.