MP officially opens new facilities at Simmons House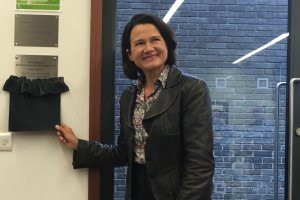 18 Jan 2016
Catherine West, MP for Hornsey and Wood Green, officially opened new facilities at Simmons House Adolescent Unit

Full story
Catherine West, MP for Hornsey and Wood Green, officially opened important new facilities for patients at Simmons House, an in-patient psychiatric unit for young people.

Catherine toured the facilities at Simmons House and officially declared the new facilities open after a £500,000 development late last year. As a result the unit now features two extra beds allowing staff to support a significantly larger number of vulnerable young people.

Speaking about the opening, Catherine West MP, said: "I am delighted to be here to open these important new facilities at Simmons House. The extra beds will mean that this unit will be able to offer much needed support to a greater number of young people and I am pleased to see that this vital service has been able to grow."

Simmons House is an in-patient psychiatric unit that offers treatment to young people between 13 to 17 years of age. With the two new beds, the unit now has places for up to 12 young people to stay at the unit.

Dr Simon Lewis, Consultant Child and Adolescent Psychiatrist and Clinical Lead at Simmons House, explains: "Mental health problems are difficult at any age, but as a young person they can be particularly challenging – this is why facilities like Simmons House are so important. The amount of time young people will stay with us can vary from a few days in an emergency situation, or in some cases our patients can stay with us for up to a year. The two additional beds are a key step forward in helping to make sure young people get the dedicated care and treatment they need."

Simmons House provides many different types of treatment, which can include medical, psychiatric, psychological, educational, group-work, occupational, family and individual therapies. Evidence-based practice and the experience of the team, underpin all of the treatment programmes.