Emily Thornberry MP shows support for breast cancer awareness at Whittington Health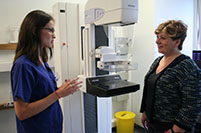 25 Sep 2017
Breast screening is offered to all women over the age of 50
Full story
Emily Thornberry, MP for Islington South and Finsbury, is giving her backing to a new drive to raise awareness of breast screening across north London.
Breast screening is offered to all women over the age of 50 and is an important tool in helping to spot breast cancer quickly.
During a visit to the Whittington Hospital, part of Whittington Health, for her own breast screening appointment, Ms Thornberry, said: "Little is known about how to prevent breast cancer, but the earlier it is found the better the chance for successful treatment. This is why breast screening is so important and I would encourage all women to make sure they attend a breast screening session. No matter how busy you are, you should always make time for a breast screening."
Speaking ahead Breast Cancer Awareness Month, which takes place in October, Siobhan Harrington, Chief Executive of Whittington Health, said: "About one in eight women are diagnosed with breast cancer during their lifetime and there is a good chance of recovery if it's detected in its early stages.
"We'd like to thank Emily for her support in helping to raise awareness of screening for this life threatening disease."