300km cycle to raise funds for Children's Ward Play Terrace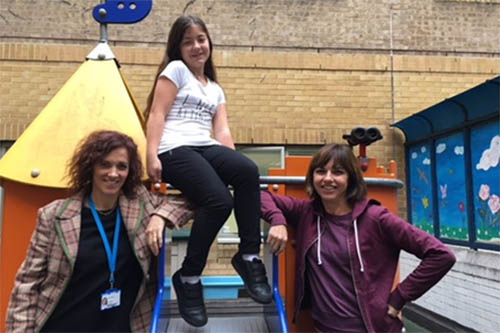 23 Jan 2018
Edie's Mum, Lucy, and Kerry, a paediatric consultant, are taking on the challenge of a lifetime - the 300km Kerala cycle trek to raise funds for Ifor Children's Ward Play Terrace

Full story
Meet10 year old Edie
In 2011 Edie was diagnosed with encephalitis and was rushed to the Whittington with her first seizure. Despite being told to expect the worst Edie pulled through, but with severe epilepsy. Edie has had many subsequent emergency trips to the hospital and many days and nights in the Ifor Children's Ward.
To give something back to the hospital Edie's Mum, Lucy, is raising £20,000 towards the refurbishment of the play terrace.
Lucy said, 'we've spent many a day and night on Ifor Ward overlooking the outdoor space that could, with a bit of investment, be a really great place for recovering children to play in and for parents to get a breath of fresh air. I was delighted to discover there are plans to transform the space and wanted to get involved.'
By coincidence Lucy's friend Kerry is a paediatric consultant at the Whittington and they decided to take on the 300km Kerala cycle trek together in March next year to raise much needed funds for the refurbishment of the play terrace. They have got off to a flying start, already raising over £6,000 of their target. Edie has been fundraising too selling loom bands.
We are pleased to see Edie doing well and very grateful for Lucy and Kerry taking on this challenge.
Please follow this link to justgiving https://www.justgiving.com/…/whittington-hospital-childrens
to sponsor them, 'like' and share to get others involved too.
If you would like more info about the play terrace project or want to do some fundraising of your own please contact graham.brogden@nhs.net