NHS's 70th Big7Tea party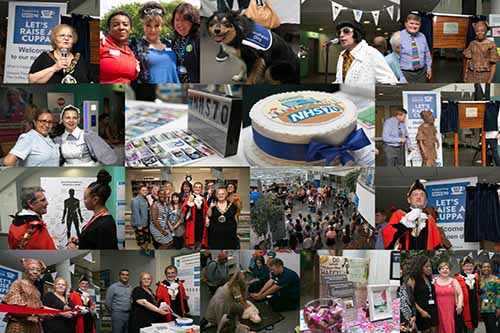 16 Jul 2018
Last Thursday we celebrated the NHS's 70th birthday will a Big7Tea party and open day at the Whittington Hospital site
Full story
Last Thursday we celebrated the NHS's 70th birthday with a Big7Tea party and open day at the Whittington Hospital site. The event was opened by the Mayors of Islington and Haringey and Comfort Offorjindu. At the opening ceremony Steve Hitchins unveiled a plaque commemorating Comfort's recent Lifetime Achievement award at the NHS Windrush70 Awards so we have a constant reminder of her hard work and service to the NHS over the past four decades.
We have now counted all of the proceeds from the event and are delighted to confirm that it raised over £1,072 towards the trust's charitable funds.
The whole Executive Team and the Communications Team want to say a huge thank you to everyone who contributed, helped with the organisation on the day and in advance, hosted a stall, donated a raffle prize, helped with the logistics, attended, bought a raffle ticket or just came along to celebrate the NHS's many achievements over the past 70 years.
Photos from the event are
now available on our Flickr page
for you to see. The photographs were very kindly taken by Dharmesh Chohan in IM&T and local photographer Kim Gray, a regular visitor to Cellier Ward. If you want to download them or keep any of them for personal use, you are welcome to do so, but please contact the communications team before using them for any other reason.
To help mark the NHS's 70th birthday, the Lewisham and Greenwich NHS Choir has teamed up with an array of celebrities to release The Beatles' classic 'With a Little Help from My Friends'. Featuring the likes of Seal, Beverley Knight and Guy Garvey, all proceeds from the song will go to NHS charities across the UK. You can download it from:
buff.ly/2lHoUFX