Review of Adult Orthopaedic Care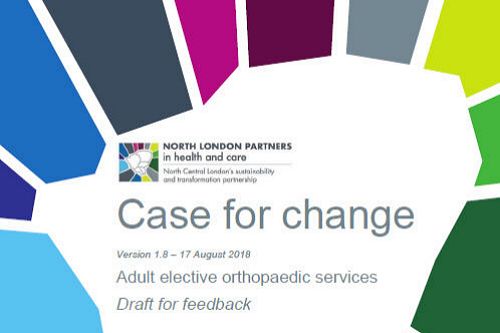 08 Oct 2018
Do you have views on current bone and joint surgery, such has hip and knee replacements? North London Partners want to hear from you.
Full story
North London Partners in health and care (NLP) is launching a review of adult elective orthopaedic care services (planned surgery of bones and joints) across north central London.

In the first phase of this review, the partnership is inviting responses to a draft case for change – a document which shares why the review is needed and early thoughts on how this kind of surgery might be organised in the future. This review will run through to Spring 2019 with this initial intensive engagement phase running until 19 October 2018*.
At present, elective adult orthopaedic care is currently delivered in 10 different sites in the area. The NHS believes there may be opportunities to improve the quality and the outcomes of that care by creating a smaller number of specialist centres with ring-fenced facilities to carry out adult elective orthopaedic hand, ankle, foot, hip, knee and shoulder surgery. Current thinking is that emergency orthopaedic care will still be delivered at local hospitals, as it is today.
The draft case for change describes the rationale for this thinking, the evidence that supports it and also explores other interdependencies. Anyone with views is invited you to read the case for change and let the partnership know their thoughts.

NLP are also working in partnership with Healthwatch groups and NHS CCGs to organise engagement events so that local people can hear more about Adult Orthopaedic Care in North Central London and give their thoughts on the future of these services.
The event will comprise a short presentation, followed by round table discussions and an opportunity to ask questions. Anyone with an interest in these services is welcome to attend. We are working in partnership with Healthwatch Camden to organise this event and anyone wishing to attend can book a place in advance. Details of the next one are:
Thursday 18 October, 2pm - 4pm.
Arlington Centre, 220 Arlington Rd, Camden Town, London NW1 7HE.
North Central London Partners in health and care is a partnership which represents Clinical Commissioning Groups (CCGs), health providers and local authorities in north central London (Barnet, Camden, Enfield, Haringey and Islington)