Whittington Health Team Commended for Preventing Blood Clots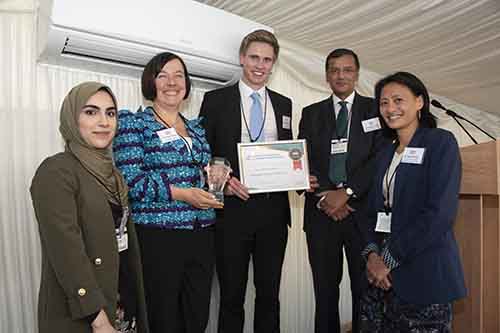 24 Oct 2018
A team at Whittington Health NHS Trust, was delighted to be awarded 'Highly Commended' for its work to prevent patients from developing dangerous blood clots whilst in hospital at the recent prestigious Anticoagulation Achievement Awards, for 'Best Work in Prevention of Hospital Acquired Thrombosis (HAT).

Full story
Hosted by Lyn Brown MP in the Terrace Pavilion, House of Commons on Wednesday 10th October 2018, the awards recognize the outstanding work of the hospitals, teams and individuals involved, and also offer a learning resource to others.
Held as part of the celebrations for World Thrombosis Day – a global movement to reduce the leading cause of preventable cardiovascular death – the team was praised for the exemplary service they have developed and now run. The team at Whittington Health made sure that 20% more patients who would benefit from clot preventing drugs received them.
The award was presented by Professor Roopen Arya, VTE National Lead and Director of Thrombosis at Kings College Hospital.
In presenting the award, Professor Arya commented:
"The team acted on audit review and within a collaborative multidisciplinary approach to initiate shared learning and change. The aim was to facilitate long term sustainable improvement. They successfully achieved this through sharing learning from audit across everyone who could benefit from it including attending meetings with junior doctors, the patient safety forum, thrombosis committee and pharmacy lectures.
"Developing this through reviewing and updating of the trust's guidelines, a subsequent re-audit showed an impressive 20% actual reduction of prophylaxis being suspended inappropriately, highlighting the impact of shared learning, education, electronic prompting and discussion between members of the Multi-Disciplinary Team."
The Anticoagulation Achievement Awards judging panel was delighted with the standard of applications received this year and the opportunity to celebrate and share effective practice taking place across the UK.
1 in 4 people worldwide die of conditions caused by blood clots, also known by the medical term "thrombosis"– the underlying cause of the world's top three cardiovascular killers: heart attack, stroke and venous thromboembolism (VTE).
Blood clots (thrombosis) can form in any part of the body but are most common in the legs. This is known as a 'DVT' (deep vein thrombosis), and parts of the clot can break off and travel to the lungs to cause a pulmonary embolism (PE), the heart, to cause a heart attack or the brain, and lead to a stroke. Blood clots are serious an often life-threatening.
Speaking about the team's success, the trust's Medical Director Richard Jennings said: "This project is an excellent example of how seriously Whittington Health NHS Trust takes patient safety and continuous quality improvement. I am proud of what the team has achieved and that our patients are now even safer as a result. The team truly deserves this commendation."
Emma Drasar a Consultant Hematologist who was part of the commended team said: "We were thrilled that our work has been recognised at the awards. The project has taken a lot of hard work but knowing that we are helping to keep our patients safe means it is all worthwhile".