Whittington Health Stars Shine Bright at Annual Awards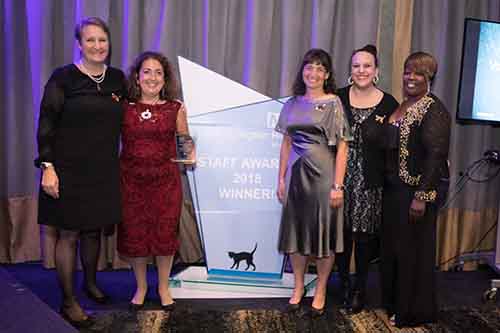 24 Oct 2018
A team that supports children with life threatening or limiting conditions and a specialist nurse, who was instrumental in setting up a globally recognised Thalassemia service, were amongst 15 individuals and teams who took home trophies at Whittington Health NHS Trust's Annual Staff Awards which took place on Friday evening.
Full story
The award's judges received over 380 nominations across 15 categories which they whittled down to just five finalists for each award. The finalists and the people who had nominated them were invited to the awards ceremony where the winners were announced.

The theme for the evening was "In a sky full of stars, who shines brightest?" It reflected the fact that the trust, which provides Accident and Emergency, Hospital and Community care across Islington, Haringey and beyond is blessed with thousands of hardworking and caring staff. The point of the annual awards is to find and recognise the best of the best, the people who go even further and work even harder.
Speaking on behalf of her team which scooped the Clinical Team of the Year Award, Bernadette O'Gorman, Matron for the LifeForce Paediatric Palliative Care Team said: "My team and I are privileged to be able to care for children and their families at their worst moments. It is challenging work, but alongside our partners in other services we take great pride in being able to provide treatment, comfort and support when it is most needed. The nomination for this award and to be named winners was a complete shock and surprise, we are thrilled."
Other winners included Emma Prescott a specialist Thalassemia nurse who received the Patient Choice Award. Her nomination said "Emma is always calm, nurturing and genuine, traits that definitely follow in the footsteps of the great Florence Nightingale and Mary Seacole. Emma is also fantastic leader to her nursing staff and it shows. I've never met a happier bunch of nurses which such an amazing rapport. They honestly make you feel happy to be there. I don't think I can ask for better nurses and I thank God that we're fortunate to have them all."
Speaking at the awards Whittington Health CEO Siobhan Harrington said: "Everyone across the trust does an amazing job every day, but it is absolutely right that once a year we take the chance to reward the very special people who have been nominated by their colleagues and patients for going above and beyond. I have now been CEO for a year and I can honestly say that I was never more proud or more humbled than when, as part of the judging team, I read all of the citations. Picking just 15 winners was an incredibly tough job so they should be as proud of themselves as everyone at Whittington Health is of them."
The event took place at The Royal College of Physicians. The RCP's current president is Dame Professor Jane Dacre who is also a Rheumatologist at Whittington Health. As part of her welcome address Prof Dacre remarked on the awards taking place at the RCP's headquarters in the year that the NHS turned 70 and the RCP celebrates its 500 anniversary.