Children's Nurse Crowned Nurse Leader of the Year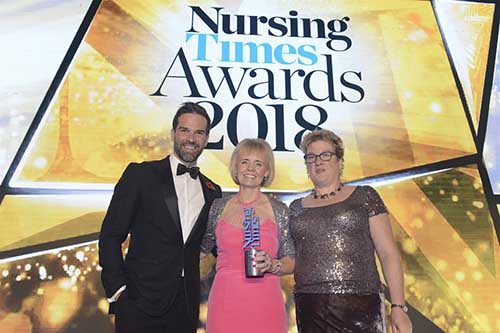 20 Nov 2018
Colette Datt, a Nurse Consultant in Children and Young People's services at Whittington Health NHS Trust took home the Nurse Leader of the Year Award at the 2018 Nursing Times Awards which were held this week.
Full story
Colette is a Nurse Consultant who has a particular clinical specialism in asthma and allergy. Judges praised her ability to co-produce innovations alongside children and young people. They believed that she epitomises the nurse leader of the year.
Colette initiated and leads the asthma friendly schools project in Islington and has enabled schools to maintain key standards and reduce absences due to asthma. This has since led to the development of an under fives wheeze project in conjunction with health visitors and children's centres.
Her other successful projects include her work with local young services users and voluntary organisations to make the transition from young people's to adults services more effective and her work with young people with autism, to make Whittington Hospital more autism friendly. They particularly commended a project she has led, co-producing identification cards with Young Carers to improve their access to health services.
On being presented with the award Colette said: "It is an honour to be given this award. I love being a nurse and being able to shape services and patient care for the better. It is a privilege to do a job when you are able to work with fantastic young people and colleagues on projects that we are all passionate about. This award endorses my passion and commitment as a nurse consultant to embrace Children and Young People's engagement in healthcare."
Siobhan Harrington, CEO of Whittington Health NHS Trust congratulated Colette, saying: "Colette has been influential as an ambassador for children and young people across North London and beyond. She inspires nurses around her to work closely with colleagues from a range of disciplines and with young people themselves to develop and improve services. She believes nurses must inquire, involve and inspire young people and the teams who look after them. She empowers inexperienced nurses to be more confident and gives them opportunities to lead projects, supporting them to develop and become leaders of the future. I am so proud that she has been given this much deserved award."
Editor of Nursing Times, Steve Ford, said: "Congratulations to all our deserving Nursing Times Awards winners for 2018. The evening always fills me with a really positive feeling, despite the challenges that may be facing the wider health sector.
"As ever, our awards entrants set a very high bar and demonstrated what great care and innovation can be achieved by nurses, often with few resources other than a really good idea and the determination to see it through," he said.
Following their 28th year, the Nursing Times Awards are the most respected and relevant awards in the nursing and healthcare sector, representing true excellence in nursing and patient care. This year's awards were hosted by TV and radio presenter Gethin Jones.