Marathon Runners Raise £17,800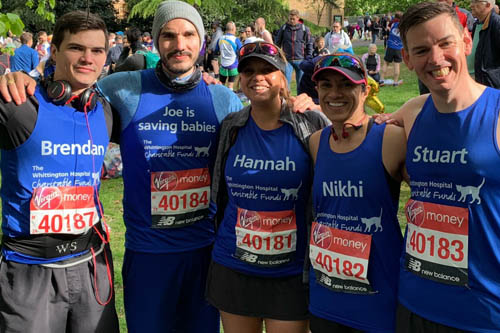 02 May 2019
Eight heroic runners conquered the ultimate athletic test by completing the 26.2 mile London Marathon on Sunday, between them raising £17,800 (and counting) to support the work of their local NHS organisation, Whittington Health NHS Trust.
Full story
The eight runners joined more than 42,500 others who completed the race which took place on Sunday 28 April 2019. Team WhitHealth consisted of five men and three women, six of whom work for the trust whilst two of the team ran to support the work of the trust after it provided care for their relatives.
Whittington Health's charity supports all services across Whittington Health NHS providing integrated hospital & community care services to 500,000+ people across Islington, Haringey & beyond. Last year it distributed £244,000 to projects which enhanced education, equipment and facilities across the trust for the benefit of all our patients, visitors, colleagues and the wider community.
Jonny Collin who ran for TeamWhit was actually completing his two marathons in consecutive months! He said: "In all honesty, I never intended to run for charity when I entered the ballot for the London Marathon. I just wanted to run it for myself
"That all changed when a member of my family was admitted to the ICU at the Whittington Hospital, where he would end up spending a few weeks. Amazingly, and very happily, he is now back at home with us.
"I signed up for the Edinburgh Marathon, thinking I could give a little back to the hospital that did so much for us. Then the ballot results for the London Marathon were released and it said "you're in". I thought that two marathons in two consecutive months would be a challenge that might persuade people to help me raise money."
Another runner is the Trust's Chief Pharmacist, Stuart Richardson, who also has a very personal reason for running. He said: "Three great friends and family members are at various stages of their treatment of and remission from breast cancer. My mother is one of those three.
"Whittington has a wonderful cancer team that offer a wide range of health and wellbeing events, support groups and workshops designed to help people take back control and get on with their lives following a cancer diagnosis and treatment. I hope that people will help me, to help them to help others." Stuart is currently on course to raise £2,500, smashing through his original £1,800 target.
Steve Hitchins, Chair of Whittington Health NHS Trust, thanked all of the runners for their determination, hard work and commitment. He said: "I cannot begin to imagine how much effort all of our runners have put into not only months of physical training pounding the streets, but also into persuading, cajoling and encouraging their friends and family to sponsor them.
"Our charity is incredibly special to the Trust community, supporting a range of activities and equipment that we otherwise simply couldn't provide. TeamWhit certainly have a very special place in all of our hearts. I thank them for their efforts and congratulate them all on finishing the race."
The next opportunity for anyone interested in running for Whittington Health is the London 10k in July – places are available for anyone who wishes to enter. The Whittington Health London Marathon ballot will open in the summer.
To find out more about each of our runners and how to sponsor them, visit:
www.bit.ly/whitrun
Whittington Hospital Charitable Funds is Charity Registration No: 1056452.