Whittington Nurse Named Mentor of the Year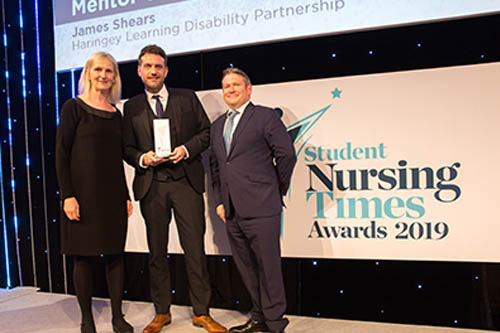 03 May 2019
A member of the Whittington Health team has scooped an award which recognises the important role of mentors in the education of student nurses.
Full story
James Shears, a Senior Nurse Practitioner working in the Haringey Learning Disability Partnership, has scooped the Mentor of the Year award at the Student Nursing Times Awards.

Mentors have the potential to shape student nurses or midwives and help inspire and motivate them throughout their course and then in their chosen career. Good mentors demonstrate empathy with their student, adapting their coaching methods to suit the individual, and provide an environment that encourages questions, informed debate and learning.
In his nomination, James was praised for "his person centred nature which allows him to be approachable and work well with all the members of the multi-disciplinary team. This gives the students the ability to be able to build professional relationships which can be very daunting at times."
He was also described as a "fantastic role model" and as the kind of caring nurse his mentees want to be one day.
The judges celebrated the way he "installs pride, empowerment and confidence in students".
On winning the award, James said: "I am over the moon to have been awarded the SNTA Mentor of the Year. It is an amazing feeling and such a wonderful surprise.
"Student Nurses have such a vital role in shaping the future of Learning Disability Nursing and I very much enjoy supporting their learning and providing opportunities and experiences.
"It is a real pleasure to have had such a positive impact upon the learning of those placed within our service. I must also acknowledge the dedicated attitudes of the Students, as well as my amazing colleagues whose support is crucial in providing Student Nurses with such a positive learning experience."