2018/19 Annual Report and Quality Account Published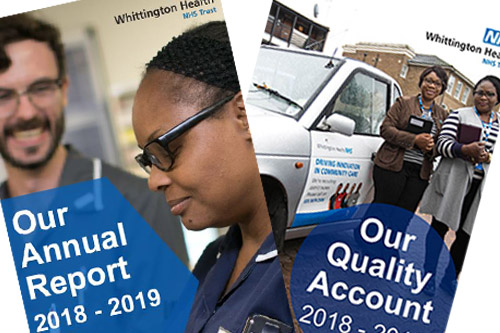 28 Jun 2019
Quality of care – safety, effectiveness and patient experience – is at the forefront of everything we do.

Full story
We are proud of the work our staff do to support over 500,000 people living across north London to live longer, healthier lives.
Our annual report
showcases our achievements, our plans for the future as well as our financial position, performance against national targets and key issues.

The highlights of our annual report will be discussed at our Annual General Meeting (AGM), which takes place on Wednesday 25 September between 5.30pm and 7.00pm in the Whittington Education Centre which is located on our hospital site on Magdala Avenue, Archway, N19 5NF.
Patients, staff and members of the community are invited to come along and join us to find out more.
Alongside the Annual Report, we also published our Quality Account for 2018/19. It outlines how we performed on quality last year and sets out our priorities for 2019/20.
The Department of Health and Social Care requires healthcare providers like us to submit final Quality Account to the Secretary of State by June 30 each year.
Quality Accounts are an important way that we report on quality and show improvements in the services we deliver to our local communities and stakeholders.
You can read it, as well as previous accounts by
clicking here
.