Results of the 2019 NHS Staff Survey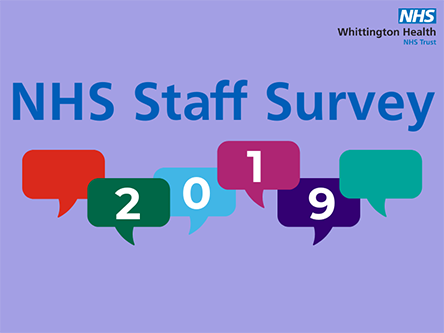 18 Feb 2020
Over 2,000 members of Whittington Health's team took part in the latest survey
Full story
Every year the NHS invites colleagues to participate in a national survey which covers a range of topics related to how staff feel about working for their organisation. The questions asked in the survey fall under categories related to individual job roles, managers, health and wellbeing, personal development and the organisation that the member of staff works for.
Each result is benchmarked not only against the previous year, but also compared to similar trusts.
The results of the survey are available to view
here.
A snapshot of some key results for Whittington Health are:
81% of staff at Whittington Health believe that care of patients is our top priority

92% of staff feel their role makes a difference - which has increased from 90% in 2018

We need continue the work started around 18 months ago to create a culture across Whittington Health where everyone is valued and included and has the opportunity to contribute
The national results will be published by NHS England in March.