Update on Children's In-Patient Services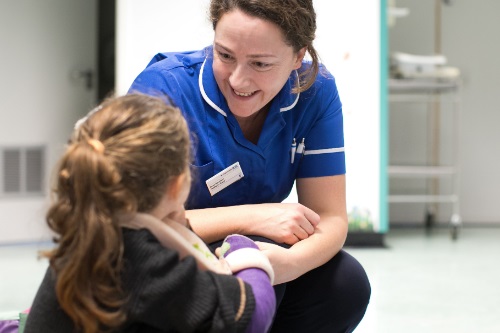 22 Jun 2020
Hospitals across North Central London are working together to provide the best possible care to Children during the COVID-19 outbreak.
Full story
Across North Central London (NCL), we have worked collectively as a health and care system to implement a number of temporary measures to paediatric (children's) services to allow us to respond to the challenges created by the Covid-19 outbreak. These measures included the temporary consolidation of paediatric inpatient services to GOSH and the redirection of paediatric emergency patients from UCLH and Barnet Hospital to alternative local hospitals.

Following discussion at the NCL Clinical Advisory Group and a decision by NCL GOLD level leaders, and after endorsement by the London Clinical Advisory Group, some paediatric services have now been amended as follows:
Paediatric inpatient beds have been reopened at North Middlesex University Hospital from 8 June onwards
Paediatric inpatient beds have been reopened at UCLH, Whittington Health and Royal Free London Hampstead site from Monday 22 June
The integrated physical and mental health crisis inpatient service has now moved from GOSH to Whittington Health. The two out of hospital crisis hubs will continue to operate in the north and south boroughs, staffed by shared rotas, to proactively manage and/or support children and young people presenting in mental health crisis away from A&E, where medically safe to do so. Integrated system-wide planning across paediatrics and CAMHS continues to progress for longer term arrangements.
All other temporary measures for paediatric services implemented in response to Covid-19 will remain in place. The paediatric emergency departments at UCLH and Barnet Hospital will remain closed to walk-in patients with a London Ambulance Service redirection in place. The paediatric inpatient wards at Barnet Hospital remains closed at this time.

Our priority is to continue to be able to deliver safe, high-quality paediatric services that best meet the health needs of children in north central London, with the minimum amount of disruption to patients and staff. We now need to ensure our paediatric services are resilient in preparation for the coming autumn and winter period, and are also able to respond to potential further outbreaks of Covid-19.
Over the next few weeks, we will conduct a review of paediatric inpatient and emergency department services across NCL. We will develop recommendations to allow us to deliver services throughout the autumn and winter period without interruption to emergency or elective services. These will be temporary measures, not permanent changes, and we'll share the recommendations with staff and stakeholders by the end of July.
The review will be led by Dr Chris Streather, who chairs the North Central London Clinical Advisory Group with Dr Jo Sauvage, Chair of NCL CCG, and who both also represent NCL at the London Clinical Advisory Group. The review will include representatives from children and young people's services, mental health, primary care and will seek input from other partners, including council Directors of Children's Services. You can find out more details, when they are available on the North London Partners website at
https://www.northlondonpartners.org.uk/
.