Whittington Health Staff Feature in Portrait of Britain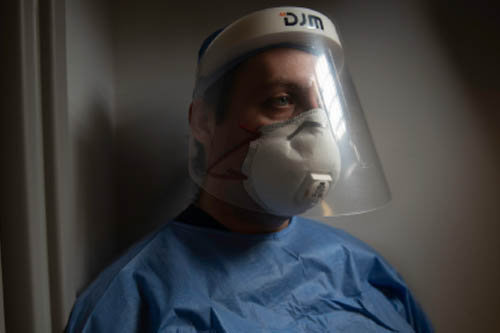 03 Sep 2020
Photographer, Slater King's photographs of our staff responding to the COVID-19 pandemic included in this year's 1854 Media and British Journal of Photography 'Portrait of Britain'
Full story
Three images of Whittington Health NHS Trust Staff pictured by photographer Slater King taken in the midst of responding to the COVID-19 pandemic have made the shortlist for this year's Portrait of Britain 2020 with one of them being included in the winning entries. The images will now appear nationwide on JCDecaux UK ís nationwide network of digital outdoor billboards.
The fifth anniversary of the national photography award ó celebrates the many faces of modern Britain at a momentous time in our history.
Set to comprise one of the largest exhibitions of contemporary portrait photography ever held, the winning portraits have been selected by industry-leading judges including Simon Bainbridge, Editorial Director of British Journal of Photography , Martin Usbourne, co-founder of Hoxton Mini Press and Parveen Narowalia, Digital Picture Editor at British Vogue .
The three photos feature:
Mihir Sangvi a Specialty Registrar working in the Cardiology Department who told Slater: "My wifeís pregnant, and we donít know how Coronavirus affects pregnancy, we donít know whether Iíve had it, I donít know whether sheís had it, and itís difficult to determine whether we should even be living together still, or whether we should be living apart. But whatever your personal feelings on the matter, ultimately, youíve been trained to try to deal with these sorts of situations and so you focus your mind and you get on with the job in hand. This is not something that we wanted to do. But itís something thatís arisen."
Stefan Campbell a Cardiac Physiologist, who said: "I think youíve just got to come in with the same attitude as before, which is to help people get better. The core of my job involves both diagnosing and caring. I think thereís definitely an element of both - using my knowledge and skills, and then the actual caring for patients as well. I think they both go hand in hand."
Ryan McGivern (whose image made the top 100 images) a member of the Domestic Team, who told slater: "When people with COVID started arriving on the ward, it was a strange feeling knowing that everythingís going to have to change, and that weíre going to have to get used to a new way of living. And when it got to the point where everyone in the ward had COVID, it was a case of trying to concentrate, and only focus on what you need to do. And thatís how I got through things."
The images of Whittington Health Staff are below, but you can see the full 200 shortlisted and 100 winning photographs by
clicking here
.
The three iconic shots form part of a collection of over 90 photographs taken of Whittington Health colleagues taken in the middle of the year as the number of cases began to fall. They form a collection of images and stories which will be brought together into a book, available for purchase shortly which capture a unique moment in the story of Whittington Health NHS Trust and its people. All photography respected all social distancing and PPE requirements required at the time the photographs were taken.
Commenting on the project, Slater said" The people in the hospital - whether itís the consultants or the housekeepers - revolve around the care of others. Thatís why when I asked them how they compelled themselves to keep coming in despite the news stories and the risk to themselves, time and time again they talked of how their care, and the hope that goes along with it, can improve the health of their patients.

So much of 2020 has been turmoil, anxiety and loss, but itís possible to see that there are so many people working selflessly, making the world a better place, and living their lives from a place of generosity and courage. It shows us a model of how we can all work and help each other in these dangerous times."