Our new Garden Shed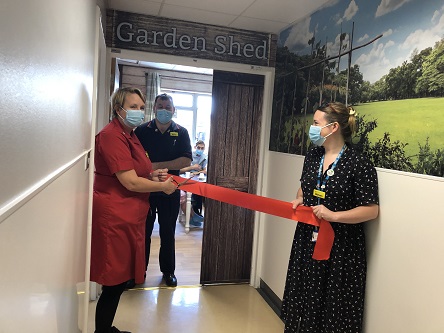 29 Sep 2020
A relaxing space for older patients
Full story
Last week the Care of Older People team opened their brand new 'Garden Shed' room on Cavell Ward.


The work was led by Paula Almeida CNS for older people, Dr Becs Sullivan consultant geriatrician and Miriam Brennan dementia practitioner and the decoration work was completed by RemPods.
The room has been designed as a space for patients to enjoy some time out from the ward where they can reminisce, do some planting, take part in activities or just enjoy a cup of tea and a chat with others.
"Being in hospital can be challenging for anyone and this is especially the case for people living with dementia due to the unfamiliar environment and routines and separation from loved ones. We chose the garden shed theme as it felt like it might be a familiar environment to a lot of people and that sense of wellbeing that comes from being connected to nature and the outdoors is universal.
Two patients joined us in the garden shed for the opening and we had conversations inspired by the surroundings that just wouldn't have happened if we had been talking at the bedside."
The room was joint funded by
our charity
and UCLPartners and was officially opened last week by Chief Nurse, Michelle Johnson and the team. It has already had great reviews and the team are looking into creating more of these spaces in other wards in the future.