We Need your Help! Kickstarter Launched for New Book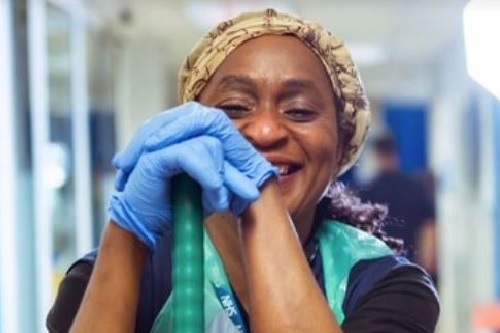 24 Nov 2020
Photographer Slater King interviewed and photographed the hospital staff during the pandemic and lockdown. It is now a photo book raising money for the hospital's charity.
Full story
When we gave permission for photographer Slater King to come into our hospital* during the first wave of the COVID-19 pandemic to capture the experiences of our staff in photos and words, we had no idea that the project would produce such an iconic body of work. The images and stories are powerful and moving and capture what it was to be here during a moment in our history. We now need your help to turn the work into a book.
What was it like working at our hospital during the height of the pandemic's first wave? How did our colleagues cope with so much trauma and uncertainty? Slater photographed & interviewed staff working during the crisis.
This has resulted in this award winning series of photos and testimonies
, which is now a moving photo book. What we see is a testament to the dedication and compassion of the staff, and we hear in their own words the incredible hardships they bear & lengths they go to in caring for our patients with skill & kindness.
The book is available from Kickstarter and all details can be found on Slater's web site
http://www.slater.photo/
. Please consider supporting the project.
Slater says "I was incredibly touched and heartened by the staff's skill and dedication. While it seemed that the whole planet was in chaos, I always left the hospital with a positive outlook because of the sheer numbers of people that were working with an incredible amount of skill and great compassion on the behalf of their patients, often at great cost to themselves. To actually see this in person, was such an antidote to the negative feelings that 2020 has brought about.
"I hope that this book allows a greater audience to see and feel and understand this, now and into the future. And on the flip side, because all of the royalties from the book are going to the hospital charity (who have agreed to ring fence these funds to improve the facilitates for the hospital staff's working lives (think a coffee machine staff rooms as an example) I hope that the book will make a positive difference to the staff themselves.
"It has been a real privilege to bring this to the hospital and a wider audience, and I'm just hopeful that the book does justice to the amazing people that I met."
*Slater was permitted access to the PPE free areas of the hospital. All photographs conform to the social distancing and PPE requirements in place at the time the photograph was taken which may not be in line with current regulations and guidance.