How you can help our furloughed flyers this Christmas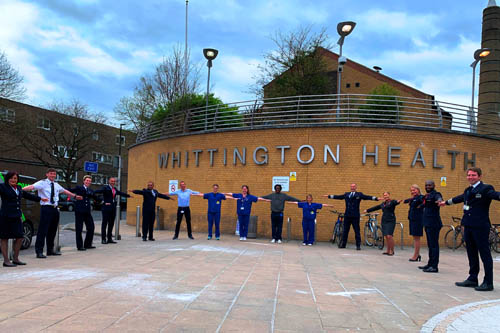 16 Dec 2020
Help our highly valued Project Wingman lounge to stay open
Full story
When we asked our staff to tell us how helpful they found the staff support services put in place during the first wave of COVID-19, 93% praised Project Wingman.


Other services, such as food donations and dedicated wellbeing areas rated highly too, but the support offered by aircrew clearly had a major impact on staff wellbeing during this unprecedented period.
Launched at the start of April, Project Wingman offered 'tea and sympathy' to tired medics and support staff from a mini 'first class lounge' created by the airline crews keen to play their part when the lockdown grounded international flights.
These lounges were kept stocked with tea, coffee and snacks, through donations from local businesses, and direct funding contributions from the local community. It would not have been possible without this support, and Whittington Health are forever grateful.
Doctors, nurses, allied health professionals and support staff dropped into the lounge before, during and after shifts, for the chance to unwind, decompress and unload whilst chatting to fellow professionals, used to working in a stressful environment.
The furloughed flyers helped shape the philosophy that underpinned the support services offered to staff, namely that it's 'ok not to be ok and that it's ok to say'. These services were credited with helping lessen burnout, particularly for busy and newer staff.
Evidence from previous pandemics indicated that COVID-19 would have significant immediate, short and long-term impacts on our staff, particularly given the speed of the changes. As a result a support team comprising people from across the Trust was mobilised, to help staff deal with its adverse effects on their welfare.
From its beginnings at Whittington Health, Project Wingman eventually expanded to more than 50 hospitals with over 4,000 volunteers and is still going strong.
To find out more about how Project Wingman got off the ground, check out this story from
thepointsguy.co.uk
, which features some of our very own Project Wingman volunteers in flight formation.
How you can help


Although the sympathy is free, the tea, coffee and biscuits aren't. If you can help Project Wingman continue supporting our staff, please make a donation via our
JustGiving page
. Anything you can give, big or small, will be very much appreciated.
Whittington Health would like to say a big thank you to all the businesses they have supported this great initiative over the past few months over
the past few months,

which includes:
Wenzels Bakery
Square Mile coffee
Gold Key Media
IGD Indoor Garden Design
Guru Manyeo Granith Gurdwarar – Sikh Temple
Fuel the fight
Archies
Hendon Bakery
Audio Gold for the audio system