Helping Patients to see Behind the PPE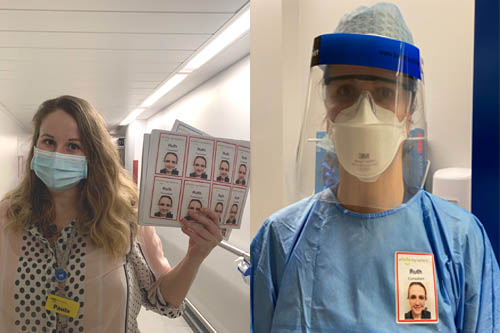 15 Jan 2021
A new initiative has just launched to help our patients see who is treating them, despite the necessary PPE.
Full story
When faced with a member of our staff in full PPE, it can be daunting for our patients as it is very hard to see who they are. You can't see a smile or any facial expressions and it is very hard to recognise anyone. Being a patient at the minute is difficult and there is much to be anxious about. To try and improve the patient experience, we want to enable patients to see the person behind the PPE, and see who is looking after them.

Inspired by our colleagues at Barking, Havering and Redbridge University Hospitals who shared a simple template we are now launching new stickers with a smiling photo of the person behind the mask.
Paula Ryeland, Quality Improvement Lead for the Trust said:
"We always want to do more to help our patients and service users feel at ease. These stickers show the staff members first name, their job role and then a smiling photo of them. We hope that this will help patients to see what the staff member looks like, and to envisage them smiling at them. We have offered to supply them for any of our staff who wear PPE."
The stickers also fit with the 'Hello My Name Is' campaign which aims to provide more compassionate healthcare
inspired by the late Dr Kate Granger MBE
. Whittington Health has previously provided all staff members with a distinctive yellow 'Hello My Name Is' badge though these often cannot be seen under aprons or gowns.