Arsenal's Bellerin backs Whittington Health staff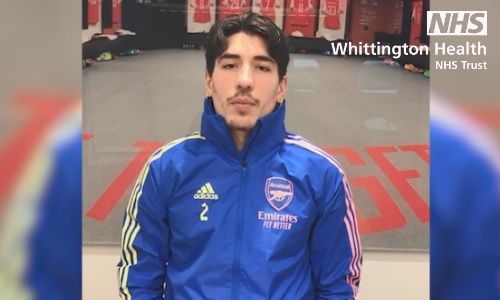 26 Jan 2021
The Spanish international sent his support to everyone working during the pandemic
Full story
Héctor Bellerín, Arsenal hero and north London resident, has sent his support to everyone working at Whittington Health during the pandemic.
"Thank you to all the staff at Whittington Health for your help targeting Covid-19", says Bellerín in a specially recorded video directed at staff.
"Everyone is so grateful for what you're doing. We're all sending our support from Arsenal Football Club and we want to let you know that we really appreciate you."
Bellerín has been a local resident since signing for Arsenal in 2013. Alongside their recent support, Arsenal have also donated several items of signed merchandise to support our charity's Covid-19 Appeal.
The generosity of our local community has meant our charity has been able to offer a wide amount of support to staff during the pandemic, including supplying hot meals, providing rest areas and offering psychological support amongst other services.