Plans to Improve and Invest in Maternity Services on International Day of the Midwife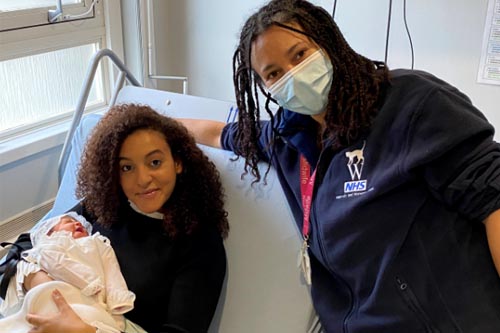 05 May 2021
Today, (5 May 2021) marks International Day of the Midwife, which will be celebrated by midwives and those grateful for the support they have received from midwives around the globe.
Full story
The theme of this year's celebrations for International Day of the Midwife is 'follow the data: invest in midwives.' Whittington Health is making that goal a reality as it announces plans to ensure that its maternity services are ready to support mothers and babies for decades to come.
The NHS Trust based in North London is today unveiling details of its maternity transformation programme which include plans to increase the proportion of women who have the continuity of a single midwifery team throughout their pregnancy, invest in enhancing the culture within its maternity teams as well as plans for a renovation and refit of its maternity and neonatal units, due to start in 2022/23.
The transformation programme includes four areas of focus which the Trust hopes will see its already excellent services for mothers and babies become even better. Official Independent surveys show that women already consistently rate their care during labour and birth as 9 out of 10.
Over the course of the next twelve months the Trust will be focussing on 5 key areas, with plans to:
Increase the proportion of expectant mothers who see the same midwife throughout their pregnancy journey, because evidence shows that continuity of maternity care improves outcomes for women and babies. In particular, evidence shows that women who had continuity of care were:

16% less likely to lose their baby and 19% less likely to lose their baby before 24 weeks
24% less likely to experience pre-term birth
15% less likely to have regional analgesia (for example an epidural)
This work has already commenced, with two dedicated continuity of care midwifery led teams launching today.

The teams began trialling the service earlier this year. The first lady to give birth was Cherelle whose baby girl Valentina was born on 12th April 2021, weighing in at a healthy 3.2kg. She said: "I feel really lucky to have had the same midwife care for me throughout, Nikola has been utterly amazing, she has seen me every day whilst I have been in hospital. Nikola was with me throughout my pregnancy and her and Susannah cared for me in labour. I had met Susannah the week before and that really helped me. My labour was quite long and they guided me through, I trusted them and all my questions were answered at every stage".
Invest in digitising its services so they become even safer and even more efficient with less paperwork.
Invest in developing staff. This includes work to strengthen and improve the team culture and inter-team working to help make the Trust's care even safer.
Plan, design and prepare for a refurbishment of the Trust's maternity and neonatal services at its Whittington Hospital site. This will see brand new wards for everyone who uses the Trust's maternity units with work expected to commence in 2023.
Commenting on the announcement, our CEO, Siobhan Harrington said: "Each year over 3,600 new Whittington Babies arrive into the world and predictions show that even more will be arriving each year in the future. We want every single mum and their partners to have a great experience and that is why we are investing in every aspect of our maternity services. This will result in more staff, teams who are equipped with the tools they need to work better and smarter and improved environments for patients and babies to ensure that we can continue to offer safe, personalised and caring maternity services for decades to come."

Roz Webb, Lay Chair of Whittington Health's Maternity Voices Partnership – a group of parents who have given birth with Whittington Health said: "The MVP is delighted at this announcement. We know how much the Whittington cares for women and birthing people and their families, and it would make such a difference to everyone to work and be cared for in a space that is fit for purpose. The Whittington maternity unit is fantastic and thoroughly deserves this recognition.
The Trust is keen to ensure that the views of past and future mothers and birth partners are at the heart of the plans to refurbish its maternity and neonatal services and will commence a programme of listening and engagement opportunities in the coming months.