Thousands to get first Covid-19 jabs at mass vaccine clinic at Emirates Stadium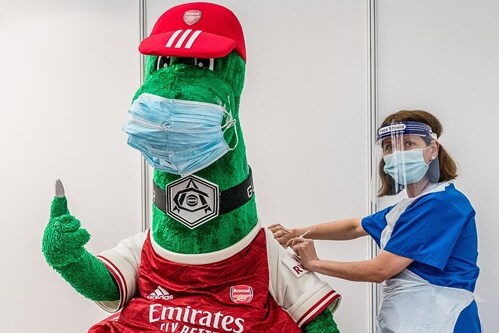 22 Jun 2021
Islington Council is working in partnership with the NHS and Arsenal Football Club to host a mass vaccination event at Emirates Stadium over four days, Friday 25 to Monday 28 June inclusive.
Full story
At the event - Gunner Get Jabbed - the site will offer first dose only Covid-19 vaccinations between 8am and 8pm each day.

Anyone aged 18 and over who hasn't yet been vaccinated is invited to either book a slot in advance or to come on the day to get a walk-in appointment, subject to availability.
To encourage take up of the vaccine and make it a memorable experience for the community, Arsenal are also pleased to offer everyone vaccinated over the four days a complimentary all access behind-the-scenes tour of Emirates Stadium! Thousands of vaccinations are expected to be given over the four days, with all attending receiving the Pfizer vaccine.
You do not have to be registered with a GP to get the vaccine at this pop-up, and you will not be asked for your immigration status.
If there are members of your family, neighbours or friends who have not been vaccinated yet, bring them with you! If you are registered with an Islington GP, are eligible and haven't had your first dose yet, look out for a text message today (Monday 21 June), inviting you to book your appointment. Use the link in the text message to book at this pop-up at Emirates Stadium. Alternatively, you can book on Eventbrite -
https://gunnergetjabbed.eventbrite.co.uk
- or by calling the We are Islington helpline on 020 7527 8222.
There will also be walk-in appointments during the opening hours.
Entry to the stadium will start at Block S, near The Armoury at Hornsey Road. It is fully wheelchair accessible via a street level lift. There'll be a managed queueing system for those with appointments and those turning up on the day, to ensure social distancing is maintained at all times. Remember to wear your face mask, unless you're exempt. Vaccinations will be carried out in the stadium's concourse, delivered by trained vaccinators from the NHS.
For anyone who is due their second dose, there will be more capacity in existing sites across Islington over the coming weeks. The best way to book is on the NHS booking system. Remember, it's important to get two doses of the Covid-19 vaccination to get the best possible protection. You should get the second dose eight to 12 weeks after getting your first.
Jonathan O'Sullivan. Acting Director of Public Health in Islington, said: "The vaccine is helping to bring us out of the pandemic. But we need more people in Islington and London to get vaccinated. It's the best way to protect yourself, your loved ones and our communities, and having the jab really will help us all get back to enjoying the things we've missed doing. "So, I urge everyone who is eligible and has yet to be vaccinated to book their appointment today.
"We hope the pop-up at this iconic landmark in the borough will provide some extra incentive. We'd love to get even more people down there than were at Spurs' Stadium last weekend!"
Mike Clowes, CEO, Islington GP Federation, said: "Islington GP Federation has been providing Covid-19 vaccination clinics for Islington residents since 15 December last year, in GP hubs and at pop-ups such as at The Finsbury Park Mosque and House on the Rock Church. We're so pleased, therefore, to be able to collaborate with such fantastic partners to create and deliver this event. Last autumn we provided mass flu clinics at Emirates Stadium, which turned out to be a good dress rehearsal for this much bigger event!"